Artist of The Month: Hannah Schafer
Q: What art classes have you taken at Southeast Polk?
A: My first year I took Art I, 3D Design and Modeling, and Art II. Sophomore year I took Photography, Art III, and Painting. My junior year I took Advanced Painting.
Q. Why do you enjoy art?
A. I've always enjoyed art because I get to use my creativity, constantly challenge myself, and see my ideas come to life.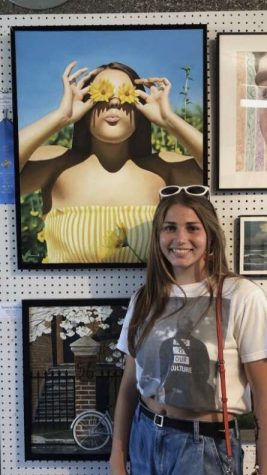 Q. What is your favorite type of art style? Why?
A.My favorite type of art is abstract because there is unlimited possibilities of what you can create. 
Q. What is your favorite type of medium to use? Why?
A. My favorite medium to use is oil pastel because I love the texture it creates and it's more hands on than using a paint brush. 
Q. What has been your favorite art class to take at Southeast Polk and why?
A. My favorite art class that I've taken is Advanced Painting. We focused on stylized abstract and that was something that was new to me.
Q. Are you going to continue to do art after high school?
A. I will continue to do art after high school; I plan to always do art throughout my life. 
Q. When did you first start getting into art?
A. I've been interested in art since I was little. I don't ever remember when it has not been a passion of mine.
Q. Do you do anything outside of school that involves art or anything creative
A. Outside of art I also dance. Like art it's something I've been doing since I was very little. Although I don't plan to continue dancing after high school, I will always carry it with me. 
Q. Is there anything else you would like to add?
A. I strongly encourage everyone to try new things and find something you're passionate about. There are so many different way to have creative outlets. It doesn't matter how skilled you are just as long as you enjoy doing it.