Edgenuity Online Learning Platform
Edgenuity was a program originally implemented in Southeast Polk for students who needed credit recovery, but is now given as an option for students who don't have room in their schedules for certain classes.
There are many students who take Edgenuity classes in order to make room in their schedules for elective classes. Senior Trinity Duffy is one of those students who has taken almost three classes on Edgenuity.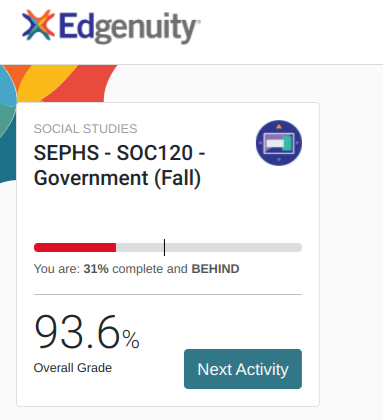 "I figured I would knock out my mandatory classes online during the summer in order for me to make room for electives," said Duffy. 
The classes available on Edgenuity include: Government, Economics, Health, and Personal Finance. Social Studies teacher Madelyn Kieler oversees the students taking Government on Edgenuity.
"You have to be disciplined enough to work on it consistently because it is easy to fall behind and not easy to catch up," said Kieler.
Edgenuity is designed to go at the pace of the student, but modules must be completed by a certain due date. There is also a difference in the learning structure between online and in person learning.
"Learning on your own and through computer sources is quite a challenge compared to in-person learning," said Duffy.
Students who are more self-sufficient tend to have more success with the Edgenuity course than those who are not. Since Edgenuity is an online course as well there is a lot more work that goes into it than in a traditional classroom setting because the students are self teaching.
"I do think a lot of students underestimate how much work Edgenuity is compared to the regular class," said Kieler.
Students should consider if they are capable or not of completing the class on their own before entering an Edgenuity class.
"I would recommend Edgenuity for students who have self responsibility. I think it teaches students how to better work alone and manage their time," said Duffy.