Volleyball Sets Up For Killer Season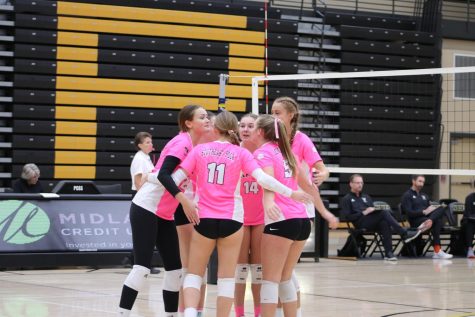 The girls' volleyball season kicked off in early August and has continued throughout the fall months. Though the competition for these athletes has been tough, through it all, they continue to play with fire and support each other on and off the court.
Senior Delaney Ferguson didn't get into volleyball on her own, but knew of the sport from watching on TV with her family. One of her favorite things about the game is the intensity and energy. 
"One of my favorite things about the game of volleyball is the intensity and the energy of it. It is by far the most thrilling sport I've ever played," said Ferguson. "I love the feeling of getting an ace in a high-pressure situation or getting a stuffed block after a long-fought rally. I also like how quickly the momentum can change during a game."
As Ferguson reflects on the fall season, she thinks the biggest challenge was dealing with a more difficult conference with lots of talent from all teams and playing on a team with people who haven't played a lot together. Aside from that, Ferguson says that it has been one of the most fun seasons with all the new friendships and memories she has made.
"Most of all, I love how it is a team sport. Every individual has their own stats, but ultimately it comes down to each player fighting for the girl that stands beside them," said Ferguson
Head volleyball coach Jessica Hazelton's favorite thing about this season is the group of players she's working with. 
"My favorite thing about this season is definitely the group of girls I am coaching. They are fun, get along well, and are just good people to be around. They have fun but also work hard," said Hazelton.
The team this year had a goal to improve their team record from last year and compete in their conference. Although there have been obstacles at times, they still persist to work hard and stay disciplined throughout the season.
"Team goals this year was to improve our record from last year and compete in the conference," said Hazelton. "We've struggled a bit as our conference is extremely strong at volleyball, but we've still seen a lot of individual improvement and our team has competed really well in some big games."
Hazelton loves the game of volleyball; she coaches because she misses playing and coaching allows her to keep connected with the sport.