Virtual Tour Takeover
During the pandemic, virtual college tours are more popular than ever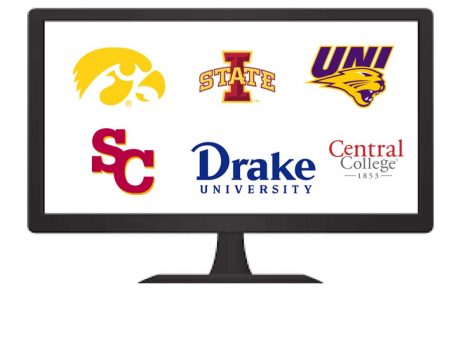 For seniors, checking emails this time of the year can be overwhelming. Inboxes are filled with different colleges trying to gain your interest. Some are daring you to visit a confusing website and long list of awaiting majors and opportunities, but how do you know which is the right place for you?
Finding the perfect college is an important and exciting part of senior year. But with closed campuses and scary virus rates, students' opportunities to go and experience the college of their dreams first hand is not always possible. With these new challenges, many universities are coming up with creative solutions. This year, virtual tours are more popular than ever. 
A virtual tour can go many different ways depending on which college a student  is looking at. Some tours are going to be an hour long video walking you through a campus, stopping at major buildings, landmarks, and places that make that campus unique. This is to give students a quick knowledge of the college and shows them what life on campus is like. Others will be a question and answer session between prospective students and people on campus. University websites will have several options of tours when you are registering for one. 
Southeast Polk counselor Michelle Feldman says, "Before setting up an online tour do your own research about the school. You can gain so much knowledge from a school's website. Email admission counselors and ask for the basic information but also what do they recommend to see or do at the school. Look up information about the town/city on Google and see what you get." 
Students are taking advantage of this unique situation and experiencing colleges they may have not looked at before. Senior Patrick Tunks went on a virtual visit to Drake. During his tour, he got the opportunity to ask current students and staff questions.
"The staff talked about the classes they offer and the facilities on campus. They were also very clear about scholarships and financial aid," said Tunks. Tunks feels that he missed out on the "feel" of the campus, but understands the challenges COVID-19 places on the university. Tunks liked that during his question and answer portion, current students talked about why they chose Drake and why it works for them. He is looking forward to doing more college tours in farther away places very soon. 
Universities everywhere are making sure virtual tours work for all students. A guest relations coordinator and admissions counselor at Iowa State Brylee Groskreutz, says that universities are working to make sure that students are getting all the information they need while still engaging like an in-person tour. 
"Our challenge was making sure we were meeting student's needs and providing personalized information for students even though we were on a virtual platform," said Groskreutz. 
Iowa State offers multiple tours and strives to make each one fit the potential needs of students. For example, "Tour Guide Live" is a student-led tour around the campus during which tour guides share personal experiences and showcase different buildings and traditions. "Bringing Iowa State to You" is a special-interest tour and changes on a weekly basis. 
College websites are not the only place you can find a great tour. Several other websites and apps are helping students learn more about their future college campuses. Google Maps is a great resource for students who are interested in campus size, what surrounds the campus, and where everything is located. Students can use the street view application to walk around campus. Websites like "Youvisit" and "Campus Tours" give students even more choices of virtual tours. By simply looking up the university, students can have a full campus tour at their fingertips. 
While tours are important and very helpful, it's important to not just rely on a tour to help you with your decision. Do more than just view a website or participate in a Zoom. Talk to current students, allumi or a college rep to make sure you know whether this is the right fit for you. 
"Hearing from current students and learning about your academic interests are great ways to know if that college is the place where you can be successful," said Groskreutz.