Students Navigate New ACT Protocols
Seniors are slowly starting the application process for the fall 2021. Due to the pandemic, many colleges nationwide aren't requiring any ACT or SAT testing to be done in order to be admitted. Senior Gracie Muck had already taken the ACT before the pandemic but still submitted her score when she applied to Northwest Missouri State.
"I submitted my test scores when I applied. I got a good ACT score so I'll be getting some good scholarships," said Muck. 
The ripple of waiving test scores started after many Ivy League schools decided to not require scores fall 2021 applicants, causing colleges around the nation to slowly follow in their footsteps. 
According to feed.georgetown.edu, "All Ivy League schools have waived their standardized testing requirements for the 2020-2021 applications cycle, as have Stanford University, Duke University, the University of Virginia, and many other research universities. The University of California also decided to phase out the system's use of SAT and ACT test scores when evaluating candidates for admission—a change expected to have ripple effects across the nation."
There are many different types of ways schools are approaching the idea of waiving ACT or SAT scores; one of these types being a test-optional selection. According to collegedata.com, "A test-optional college lets students decide whether they want to submit test scores with their application. Most test-optional schools will consider SAT and ACT scores if they are submitted, but focus on other factors they believe are stronger predictors of a student's potential to succeed in college. These schools look at a student's essays, recommendations, grades, and coursework just as (or more) closely than your test scores."
Many schools such as Iowa State University are letting students optionally self-report their test scores. If you do not submit a score, you will be holistically reviewed through your class ranking, GPA, and grades throughout your high school career. Students who do not submit their test scores will still receive some sort of scholarships based upon their grades and GPA. Iowa State is providing 2021 freshmen with automatic Freshman Merit awards. This is a common theme throughout colleges nationwide.
Senior Abby Wing is attending Iowa State University for Fall of 2021 and although they are a test-optional school, she still decided to submit her test scores.
"I already have submitted my ACT score and I did this because I could get a lot of good scholarships from it. I still recommend a lot of seniors take it for them to get the chance to get good scholarships as well," said Wing.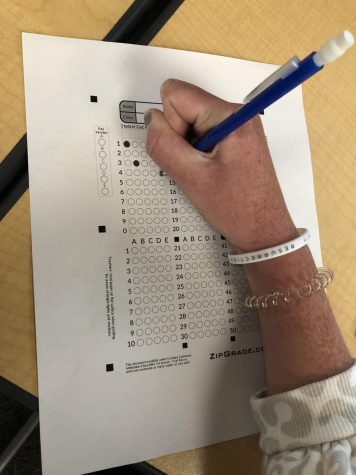 Colleges around the nation are also proving a test-flexible option meaning students are allowed to substitute their ACT or SAT score with an equivalent standardized test such as New York University or Colorado University. According to collegedata.com, "A test-flexible college lets students submit other test scores in place of the SAT or ACT, such as one or more SAT Subject Tests, an International Baccalaureate exam, or Advanced Placement test. A test-blind college will not consider test scores, even if you submit them." Other colleges such as Harvey Mudd College or California State University are simply just not considering test scores at all.  
Although ACT and SAT scores aren't required for admission to many colleges around the nation, counselor Kari Fast still recommends that students take the test.
"Yes, I recommend taking it still. My understanding is that college scholarship programs are still requiring ACT scores in order to award academic scholarships. The challenge will be finding an ACT location and date that has seats available for seniors," said Fast.
During the spring months earlier this year, the College Board was considering making an at home version of the ACT for students across the country. 
According to feed.georgetown.edu they state that "The College Board, which administers the SAT, had floated the idea of offering a home version of the test. However, the company earlier this month announced that it would pause that plan, citing disparities in technology access and students' testing environments."
Fast believes moving the testing towards an at home version is a great idea to make students feel more comfortable.
"An online version of the ACT would be an excellent idea in my opinion. The test security and ease of use would be improved with an online version of the ACT. Students are also accustomed to utilizing technology to complete and access classwork so I think an online version of the ACT would feel more comfortable to students," said Fast.
There are no signs pointing towards if this waiver will become permanent or not, however, Fast believes it will not become not long term due to the fact that colleges need a measure to determine if a student possess the knowledge for college based learning.
"I do not think this change will be permanent for a majority of colleges. The colleges need an objective, universal testing measure to determine which students possess the knowledge necessary to find success in college courses. A high school GPA, class rank, and/or transcript do not meet this need. They all lack universal objectivity. When an ACT test is taken, every student taking it on that testing date is receiving the same questions and has the same potential for success. Scholarship awards are also based heavily upon ACT scores and I anticipate that colleges will require ACT scores again or will need to entirely rework how they determine scholarship eligibility," she said. 
Muck also agrees with idea of ACT and SAT testing still being required for graduating classes in the near future.
"I think colleges will still require the ACT because it's a test that shows the knowledge that students have retained throughout high school and gives the college a good idea of where the students are at with their learning," said Muck. 
Muck recommends if you do decide to take the ACT come well prepared.
"If you do end up taking the ACT, remember to come prepared and make sure to study. Good luck," said Muck.