A Merry COVID Christmas to All and to All a Good Night
Students put holidays on hold this year due to the ongoing pandemic
As the holidays come nearer, many traditions around the nation will be disrupted. However, with the pandemic at an all time high, many traditions throughout families and around the nation may have to be put on hold or modified. 
Many of the youth look forward to sitting on Santa's lap and telling him what they would like for the holidays. Bass Pro Shop is still holding this special event for its customers from November 7-December 24. There are a few safety precautions that many customers who attend will need to follow. According to bassproshop.com, they are having a "Contactless Claus" visit. There will be an acrylic barrier in place between Santa and the families at all times. Reservations, temperature screenings, masks, and social distancing between each family are also required in order to attend the event. To make a free advance reservation search bassproshop.com and read the directions that are given. 
The big Macy's Day Parade will also have a COVID twist this year. Originally, the parade was a 2.5 mile route. To ensure the safety of its participants they have shortened the route to focus solely on the last section of the annual march. According to macys.com, "On Thanksgiving Day, we will showcase our annual celebration's signature balloons, floats, performances and herald the arrival of Santa Claus, in front of Macy's famed flagship store on 34th Street." To ensure a safe experience for everyone, they will not be marching down the streets of Manhattan this year, but instead will broadcast this American tradition on television and online on NBC. 
Rockefeller Center Christmas Tree lighting along with the Times Square ball drop will also not have any public viewing this year. The Rockefeller Center Christmas tree will still be displayed between West 49th and 50th streets and 5th and 6th avenues. According to rockefellercenter.com, "You're invited to view the live national broadcast "Christmas in Rockefeller Center" from home on NBC. Details about how to visit the lit Rockefeller Center Christmas Tree will be announced in the coming weeks. To stay informed about all the details, be among the first to know by signing up for The Center newsletter." The Times Square ball drop similar to the Rockefeller Center Christmas Tree lighting will also be broadcasted for viewers to watch. However, they have only a few in-person honorees to view the drop in person. According to timessquarenyc.org, "A virtually enhanced celebration that brings Times Square and the Ball to you digitally no matter where you are, scaled-back and socially distanced live elements still to be determined, and an extremely limited group of in-person honorees, socially distanced, who will reflect the themes, challenges and inspirations of 2020."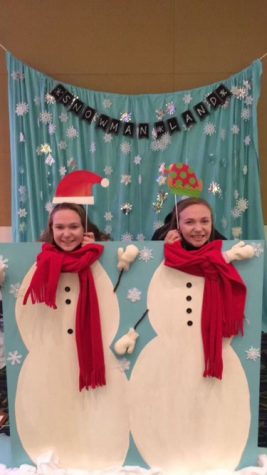 Not only are big American traditions being put on hold this year, but also families around the world are being affected with the holidays coming right around the corner. Senior Abby Wing celebrates many traditions with her family around this time, but because of the pandemic they are going to be put on hold.
"My family decided to not hold any events this year due to COVID. It sucks because I only get to see them once a year because we're all busy, but we are aware that we are in a pandemic and should do our part in the matter," said Wing.
As Wing is not seeing her family during the holidays this year due to the pandemic, School Nurse Melissa Hansen also recommends students to avoid family gatherings this year as well.
"With our community spread being so high, COVID-19 is everywhere. Also, during the holidays we tend to see older family members and we could spread COVID-19 to those who can't fight the infection. Avoid social gatherings and don't stay at other people's houses. Socialize with friends through FaceTime, Snapchat, etc," said Hansen. 
There are many different ways families can still celebrate together during these unprecedented times in safer matters. Wing will possibly be speaking to her family through Zoom during the holiday season or through texts.
"Our family could do a Zoom gift opening or Zoom dinner, but we'll probably just send texts wishing each other a good holiday season," said Wing. 
As family gatherings are important, traditions with friends will also have to be put on hold. Wing has some traditions with friends that will not be the same this year due to the pandemic.
"My friends and I usually don't do anything big, there are sometimes a small party to do secret Santa and normally we do Black Friday shopping together as well but this year we are avoiding it because of the ongoing pandemic," said Wing. 
As school will resume after the holidays, Hansen recommends to students if you do not feel well, do not come to school.
"Everyone needs to stay home when they are not feeling well.  If someone is experiencing something that is not normal for them, stay home.  For example, some people have a history of allergies or migraines, knowing what those symptoms feel like, if their symptoms cannot be associated with a pre-existing condition," said Hansen.