ACT Prep
ACTs are approaching as students prepare to take this series of tests.
The ACTs is a standardized test that assesses college readiness for high school students. Based on the score students get determines not only their college readiness but also what potential scholarships they may receive when applying to college.
English teacher Julene Pappan shares her reason for why taking the ACTs are important.
"The ACT is often used to garder scholarships and college entrances. It's a good measure for if students are ready for college," said Pappan.
The scores range from 1 being the lowest to 36 as the highest score possible. The national average ACT score from high school students is a 21. Students have the opportunity to retake the ACTs again to improve their score if they wish to after taking them. Pappan shares a good score students should strive to achieve.
"Students should go for over the national average like a 28 and higher for getting good scholarships," said Pappan.
The ACTs differ from the normal standardized tests teachers give out during the school year. Pappan explains what students should be ready for from this test.
"Students should expect both physical and mental exhaustion," said Pappan. "Other tests are more spread out while the ACTs is sitting for 3-4 hours taking multiple tests."
Like any other test, students should bring materials to help take their test. With the ACTs, students will need to bring a bit more than just pencils. Pappan shares what students should bring come test day.
"You need to bring your ticket, ID, No. 2 pencils, and an ACT approved calculator which can be shown on the website," said Pappan.
Pappan's advice for students is to prepare by studying and taking practice tests.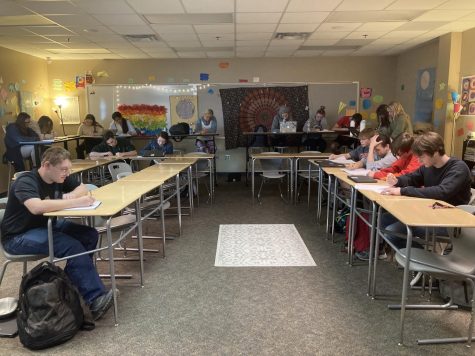 Junior Emily Nguyen took the ACTs last year and did a lot of prep work to prepare herself. Nguyen shares how she got ready for the ACTs.
"I got help from Pappan. I did the practice tests [on] Saturday mornings. She helped me with tips like making flashcards," said Nguyen.
The ACTs seem tricky since the tests help students prepare for college. Some students may find themselves a little stressed. Nguyen explains her stance on the difficulty and something she learned from taking the ACTs.
"It's not easy but not difficult. They do take a long time but I mostly knew the material," said Nguyen. "ACTs weren't as different as normal tests. I wouldn't have stressed so much otherwise."
Nguyen also said that students can best utilize their time while taking the ACTs by skipping a question if a student does not know the answer, returning back to them if time allows. Nguyen also explains that time management is key to these tests.
"Don't spend too much time on a question," said Nguyen. "Come back if time allows and bubble in the remaining questions with about 5-10 minutes left."
Nguyen's advice for students is to prepare weeks ahead by making flashcards and taking practice tests, and being calm and collected.
ACTs at Southeast Polk High School are offered to students during June and October. Sign up ahead of time and come with all the materials needed. Technology is not allowed to be on students or turned on during testing or the score will be nulled until after the testing period is over.