The "Show" Must Go On
Show choirs practice safely during pandemic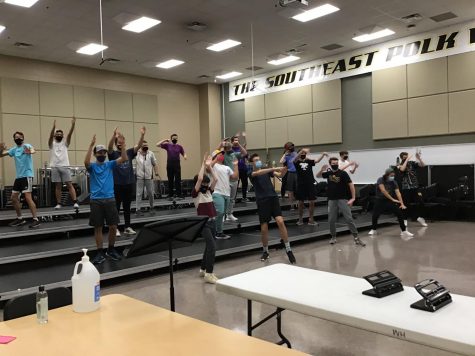 Due to COVID-19 safety guidelines, many extracurricular activities are figuring out how to practice while following proper sanitation regulations. The Southeast Polk show choirs are one of the many groups that are practicing during COVID-19 times. 
Choir Director Jamie Logan leads the varsity show choir team, RAMIFICATION, and has been following COVID safety guidelines during rehearsals. 
"Students will be masked and socially distanced at all times. The men will work choreography while the women sing in another space and then we'll switch so we always have enough room to spread out," said Logan. 
Freshman Alexia Hanson is a part of the all-female choir group, Vocal Gold, and this is her first year on the team.
"We are practicing a bit less this year, and we are socially distancing during rehearsals. We have singers' masks to wear as well. We also have choreography camps online with one day in person," said Hanson.
This year, most of the metro schools are not going to attend or host any competitions. In addition, there are limited performance opportunities due to COVID-19.
"We're not sure when or how, but we're committed to providing performance opportunities for these students even if we have to use a virtual format," said Logan. 
The singers in the groups have to be flexible due to the uncertainty of what tomorrow is going to look like. Every rehearsal for them is always improving from the last. 
"It's definitely been a struggle figuring out what to do and how to be the safest. Competitions are the best part of show choir, so everyone is sad we don't have any this year," said Hanson. "We are excited to be able to do it at all, though. Show choir is not easy to socially distance, but we are all working hard to stay safe!"