Band Members Busy with Performances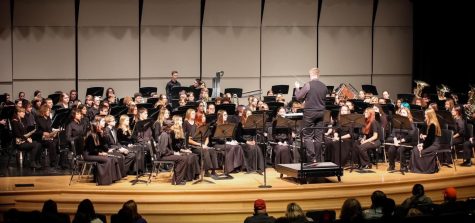 The All Iowa Festival took place on Monday, February 13 from 12-5 p.m. The festival is an opportunity for students to perform for three nationally renowned band conductors and receive feedback. Each band also has a 20-25 minute clinic with one of the conductors.
Each of the band directors gets feedback on their conducting from another well-known conductor and can use this feedback as a great learning experience to improve their directing skills.
"A fellow colleague of mine and I founded the festival. Our reasons for starting this festival are numerous. We have a tremendous need for more performing opportunities for concert bands, especially ones with clinicians/adjudicators. We wish to improve the performance level of all bands in the state of Iowa and believe this event can help," said band director Jacquelyn Meunier.
Students begin practicing the music for the festival months in advance and use various practicing methods to prepare for the festival.
"We practice the music in class and have clinicians come in a few weeks before the All Iowa Festival to give us insight on what we can do to make our music sound more advanced. I enjoy it because multiple bands go and you can kind of hear what other schools in the area are doing," said sophomore Brynn Fuller. 
On Tuesday, February 21 from 5-8 p.m., band students performed in the Solo and Ensemble Contest.
This event allows students to perform either solo or in a small group in front of a judge and be scored on a scale of 1-5, one being the highest score and five being the lowest score. 
Meunier described the ways that students can benefit from participating in this event.
"Students can benefit many ways from participating in Solo and Ensemble Contest. Students who choose to perform learn life skills vital to becoming decent, hardworking humans. At the core, students will definitely become better musicians and, in turn, the level of excellence our program achieves increases as well," said Meunier. 
An opportunity for Southeast Polk students to support the band department that is coming up is their winter band concert on Thursday, February 28 at 7 p.m. 
The department's concert band, symphonic band, and wind ensemble will be performing a variety of music at the concert. They've been preparing their music for months, through various methods and techniques. 
Meunier spoke about how she helps prepare students for all of their band events, including concerts.
"I use many techniques including student sectionals on their own, sectionals with directors, perform for each other and critique, record, listen and analyze (either through written or in-class discussion). In all of my classes, you will see student centered learning. They enjoy teaching each other and sharing their knowledge," said Meunier.