Coloring Helps Students Relax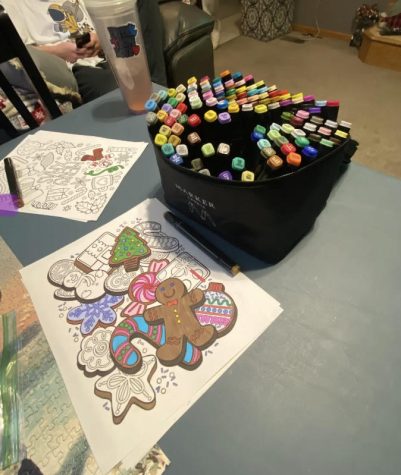 If you're struggling with finding ways to relax or escape a crazy life, coloring might be for you.
We are introduced to coloring as children because it helps strengthen general motor skills and prepares us to learn how to write. However, coloring can provide benefits for everyone, not just children. 
Senior Maris Steinhart enjoys coloring in her free time and loves the tranquility it brings. 
"It makes me feel relaxed and happy," said Steinhart.
Sometimes life can be overwhelming, and people look for a break from the chaos. Coloring can provide mental relaxation and allow you to focus on the coloring instead of your worries or the things that are stressing you out. 
"I'm having a bad day with a lot on my mind. It makes a good distraction," said Steinhart. 
Luckily, coloring is flexible in all aspects. You can customize it to your lifestyle and schedule. 
Coloring materials can be found cheap and expensive, and there is a great variety of coloring books or coloring pages that can be found online. 
Steinhart prefers to use colored pencils and markers, but the options range from crayons to fine-tipped markers, etc.
There are coloring books suited for all ages and they can include designs for whatever you want! If you want to color different tigers, there's a book for you! If you want to explore different floral designs, there's a book for you. 
Coloring is for everyone and anyone who is searching for an easy escape from their realities. 
Steinhart recommends taking it nice and easy for anyone who is unsure of what they want to start with. There are books and crayons/markers at every Dollar Tree and Dollar General as well as almost every lifestyle store. It's never too late to get started and the process couldn't be easier!