Fall Activities: COVID-19 Edition
Fun and safe ways to have fall fun!
Alex Moats, Rampage Managing Editor
October 23, 2020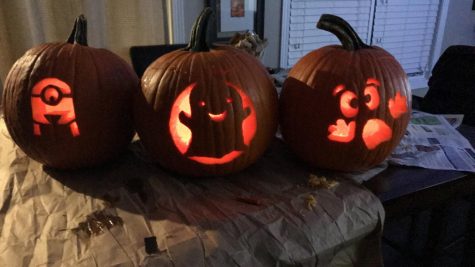 With COVID-19 constantly causing the world to readjust, here is a list of fall activities to do this unique fall season.
1. Visit Pumpkin Patches or Apple Orchards
Center Grove

Address

: 32835 610th Ave, Cambridge, IA 50046 

Hours: 9 a.m. – 7 p.m. every day

"We are hard at work to ensure the safety of our guests and team members this season. Come enjoy the fresh air and sunshine!"

 Pumpkinville & Corn Maze

Address:

618 Center Ave S, Mitchellville, IA 50169

Hours: 10 a.m. – 8 p.m. every day
2. Carve pumpkins with friends or family!
If carving with friends, socially distance in a garage or outside in the yard!

Buy pumpkins and carving tools from places like Target, Walmart, or HyVee.

To find carving templates search "pumpkin carving templates" on Google and print out whatever template inspires you!
3. Go on a nature walk or hike
Yellow Banks:

Address

: 6801 SE 32nd Ave, Pleasant Hill, IA 50327

Hours: 7 a.m. – 10:30 p.m. every day

Thomas Mitchell Park:

Address:

4250 NE 108th St, Mitchellville, IA 50169

Hours: 6:30 a.m. – 10:30 p.m.

This is an easy activity to do outside and socially distanced.
4. Have a bonfire and grill out
Get some friends and family together (socially distanced of course).

Check out some of our fall recipes for snack ideas!!

Bring a lawn chair or blanket and spread out.

Start a fire in the fire pit and enjoy the night!
5. Backyard campout
Have a fire and some snacks with your friends.

Everyone brings a tent or sleeping bag to spend the night in.

This can easily be done while social distancing and is something fun to do with friends.
6. Spooky movie night
Social distance outside using a projector to watch a movie!

Rent a projector from your local library (Altoona Public Library allows you to rent one for about $20)

New scary moviesthis fall:

Joker (October 4)
Little Monsters (October 8)
The Lighthouse (October 18)
Zombieland 2: Double Tap (October 18)
Girl on the Third Floor (October 25)