The Show Goes on Despite Pandemic
Music department adapted Wizard of Oz Musical to changing times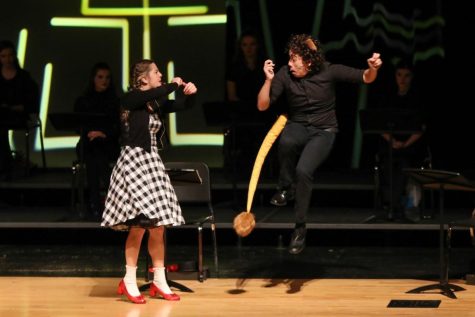 The Southeast Polk Music Department presented the musical Wizard of Oz during November 13-15, 2020.
The Wizard of Oz is a story where a girl named Dorothy and her dog Toto were pulled away from her home in Kansas by a tornado and landed in the magical land of Oz. To get home, she needs to find The Wizard. Along the way, she finds friends and an enemy. Because she is, unfortunately, wearing some magical red slippers, an evil witch is after them. 
The music department has put on performances in the past. Musicals are in the fall and plays in the spring. Things are slightly different now with the COVID-19 pandemic. The musical was starring junior Charly Proctor as Dorothy.
"Doing the musical this year was a very unique experience for all of us. Although it was very different, I still had so much fun with the people that love me," said Proctor.
Director Jamie Logan had to take some precautions. 
"We limited the size of our cast and crew and rehearsed socially distanced and with masks on. During the show, the audience [was] socially distanced by household," said Logan. While trying to make things safe, the school can still grant some kind of normal for these students.
"Doing a musical during a global pandemic was definitely a very strange experience for everyone involved. Although it was very challenging at times, it gave us all a sense of normalcy. It made us all feel like we had something to hold onto, and something to fight for as a team," said Proctor.