Musician of the Month: Margo Keller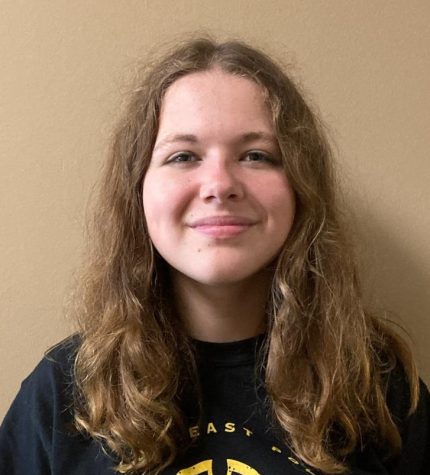 Q: Which band(s) are you in, and how long have you been in each band?
A: I am in wind ensemble and marching band and I have been in both bands for all 4 years.
Q: What instrument(s) do you play in each band? How long have you been playing it?
A: I play clarinet in both bands, and I've been playing my clarinet for eight years.
Q: Do you plan to continue to play during college? Do you plan to make it a career?
A: I'm going into a creative writing major, and will continue to play throughout college on the side
Q: How has this challenged you in your music career? Do you think this has made you a better player?
A: Sometimes I do so many band activities that it gets stressful, and I forget why I like it at times, so I have to remember why I enjoy it. Which helps me appreciate it more, and I enjoy it all over again.
Q: What was the most challenging part of your experiences with both marching band and wind ensemble?
A: Playing assessments, because I fixate on the small details, and get frustrated until I get it.
Q: Which one do you like better, why? Which do you think is more challenging, why?
A: Wind ensemble, because it feels more relaxed and more about the music, style, and technique, rather than marching band while it's also about the physical marching and as much as the music.
Q: How do you think your music experience will help you in your future?
A: Band has taught me how to be patient with other people and how to work with a team, practicing consistently helps.
Q: What do you enjoy about band?
A: I enjoy the feeling of accomplishment, and the band is a family so I feel like I can't leave the friends that I've made all these years.
Q: How many hours a week do you spend practicing for either band?
A: Six hours a week
Q: Any advice for new musicians?
A: If they get stressed easily the most important thing is to care and practice hard about it since you love it, if you don't have the desire for it, then you won't practice for it.