Show Choir Recap 2022
Southeast Polk High School has two show choirs, Vocal Gold and RAMification. Both groups have worked tirelessly since last May to perfect their shows. In December, they premiered their shows, Vocal Gold displaying a, "Stages Of A Breakup," them and RAMification showing off, "Welcome To The Freak Show."
RAMification has taken home two grand champion awards, along with a third place award, and numerous caption awards including best choreography, best vocals, best crew, most entertaining show, as well as best soloists. Vocal Gold has taken home two first place awards in their division, along with a second place award, third overall, and best band.
Vocal Director, Jamie Logan, recalls the bittersweet memories of this season.
"Taking a year off has just made performing so special. I think the teamwork aspect is the best it's ever been, and it's also made [the team] more successful, being successful is always fun," said Logan.
Both teams had to learn lessons in order to exude the success that both of them have found. Long rehearsal hours, frustration, and the cliche blood, sweat, and tears.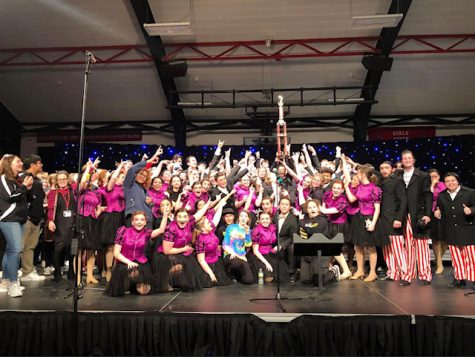 "The message of our show, celebrating our differences, is also what makes our team better. When we celebrate our differences, it's those things that set us apart from everybody else," said Logan.
Freshman Rachel Woods is in Vocal Gold this year, and is looking forward to auditions in early May. Both her team and RAMification have seen tremendous success this season, Woods elaborates.
"I think both teams were more successful because every person put in a lot of work, it wasn't just a few people giving less or more, everyone gave more effort and it paid off," said Woods.
Senior Ella Scott has been involved in show choir since her sixth grade year, and is now in her final year of RAMification.
"We have some really great leaders this year that help set an example, and we just have a very fun show that everybody enjoys," said Scott.
Reflecting on her senior year, Scott expressed that she will miss making new friends and the overall feeling that show choir gives her.