Students celebrate spring traditions
Christmas is not the only holiday to have fun traditions with family. Freshman Grace Corwin is excited for the new holiday to come. Every Easter Corwin says that she has a special trip to go see her family for the holiday, and have an Easter egg hunt.
"I have a Wisconsin trip every year with my family, my aunts and uncles live up there," said Corwin.
While Corwin's family lives up there, they also do an Easter egg hunt with all the kids, it's lots of fun for them.
"My mom laughs because we're a bunch of high schoolers that get excited over an egg hunt," said Corwin.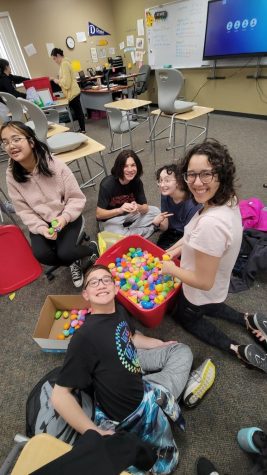 People get excited to celebrate together. For example, Corwin loves that it brings her family closer together.
"It's a time I get to hang out with my family because of how far away they are," said Corwin.
Traditions don't have to be something big, but it could mean something to you and your family, which could also bring your family closer together.
"It doesn't have to be exactly moving to Wisconsin, but do something with your family to make things fun and bond to get close together," said Corwin.
You could also add more traditions if you wanted to, this way your family get together more often, it doesn't have to be a big change.
"If something cool came, then I would take part in it, but there are some big things that I wouldn't want to get rid of or change," said Corwin.
In the end, Easter traditions are just as important as any other tradition, whether it's collecting candy to eat later, or spending time with the ones you love.