Dungeons & Dragons is Rolling Into Mainstream Culture
Dungeons & Dragons is a tabletop roleplaying game that was created in 1974 according to britannica.com. While the game has led its genre since its inception, it had a 33% spike in 2020, with over 50 million people playing the game according to an infographic posted by Wizards of the Coast, the brand behind Dungeons & Dragons. Of those players 54% were under the age of 30.
While player numbers have continued to rise since its release, some people still view the game as overly complicated and overwhelming, and it's easy to see why. In the most recent edition of the game, there are currently nine books dedicated to rules for the game, all ranging from $25 to $50 if bought new. Despite this, Junior Paige O'Riley has had no problem finding ways to make the game her own.
"I was so set in stone about how I have to do this, this, and this, when in [Dungeons and Dragons] you can do whatever you want," said O'Riley. " [It's] super relaxing to have that freedom."
Senior Margo Keller has been playing since she was in the fourth grade, and has continued to find something to enjoy in every game.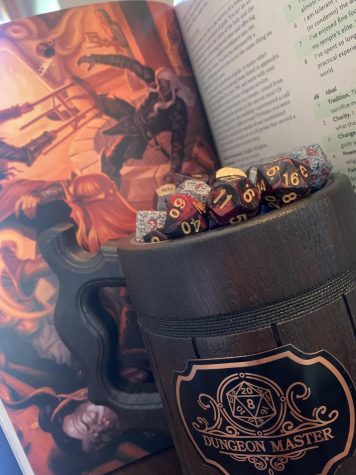 "[I wish I knew] how much fun it was going to be, and how much it was going to change my life," said Keller "And just how creative Dungeons & Dragons can get, and how it can help with other areas of your life."
According to dragonvault.com, the average number of players in a game of Dungeons & Dragons is five. These groups are usually composed of a few players, as well as one person running the game, called the Dungeon Master, or DM. This person creates the setting and story their players will be following, and acts as a moderator for the players. Though there are many resources put out by Wizards of the Coast, several players have also made their own content.
"There's a lot of stuff out there that people have made, and it's so cool. So being able to just use all the stuff that people have made has been a huge help to me, and a lot of other players," said O'Riley.
With all this content, many have found something they can enjoy within the game.
"It's pretty much make believe for adults, so don't be too intimidated by it. All you need are some friends who are interested," said Keller.