Arts Are Awesome!
For many students at Southeast Polk, the arts programs are very meaningful and help prepare them for success in their future aspirations.
"I keep going back to the arts because the communities are like families," said sophomore Brynn Fuller. She is a member of Wind Ensemble, Chorale Choir, Vocal Gold, and a drum major in the Marching Band. She hopes to become a high school band director in the future.
The music programs help Fuller to prepare herself for the future.
 "Being a drum major helps me to understand conducting so I already have experience when I go to college," said Fuller. Her directors push her and encourage her to improve.
"They push us with different music, and they try to have us focus on different things every time they run through something. They have us discuss what we heard with people within the band, so we get different perspectives," said Fuller.
"I would say that our arts programs prepare students for their career no matter what field they want to go into." said art teacher,Anne Wetzel. "Even if it has nothing to do with art, it gets them thinking in creative, problem solving ways."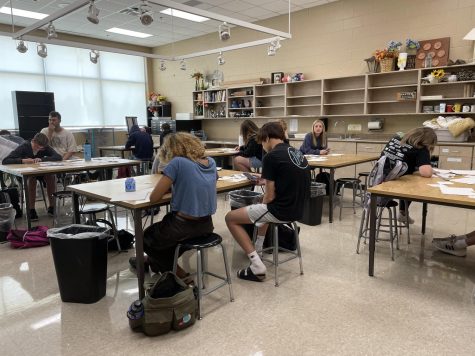 However, plenty of past SEP students have pursued careers in the arts. There are Southeast Polk alumni who are professional photographers, freelance artists, working in graphic design, and film.
"I'm actually a past student at Southeast Polk and so is another of the art teachers so two of us have come back to teach art," said Wetzel.
The benefits of the arts are obvious to Fuller.
"I like being able to put emotion into music and being able to move people with what you're doing and inspire them," said Fuller.
Fuller isn't the only one who appreciates connecting with others through the arts.
"You can express things through art that you can't through words. It gives people a way to express themselves when they couldn't through other means," said Wetzel.
Fuller has had to put in a lot of work to improve and spends around 20 hours a week on the arts.
"I also think it's important for people to realize that art isn't a talent," said Wetzel. "It's a skill and you have to build that skill."