October Musician of the Month: Alahna Vroom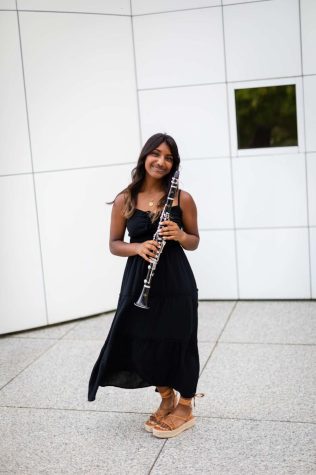 Q: How many fine arts classes are you in?
A: I am in two fine arts classes; the Wind Ensemble and the Marching Band.
Q: What instrument(s) do you play in band? How long have you been playing them(it)?
A: I play the clarinet. I started playing it in 5th grade.
Q: What is All State band in your opinion? What is the process of it? When did you start the process of practicing these materials? 
A: All State is a chance for students around the state to show their musical ability and come together for one band, and it's really fun when you're around people that have the same skill level as you. For the audition you have to learn two etudes out of a book, you have to have your scales memorized, and you have to perform a minute of a solo. For this year, the etudes came out in July before the beginning of the school year, but normally I start in the beginning of summer just going through scales and working other etudes that are similar to all state just to get myself acquainted with the rhythms and notes. I also study privately and I recommend it, because it's really helped me grow as a musician, and they can help you with things for the audition.
Q: Is this your first time trying out for All State? Have you made it to the band before?
A: This isn't my first year, sophomore year I worked on the music and then didn't decide to audition for all state, but then decided to audition for SCIBA. Last year I auditioned for All State but didn't make it, but auditioned for SCIBA and made it, and this year we'll see. SCIBA is another honor band opportunity for students that if they didn't make all state they can audition for that.
Q: What are some positive things about practicing for All State?
A: It's about the journey, and auditioning for All State has definitely helped me grow as a musician a lot. If I didn't work on the music or audition I wouldn't have been as confident as I am now. It's made me more skilled, and more confident.
Q: What might be the challenging things when auditioning for All State band?
A: I think confidence is a thing, because you may feel confident one day after you practice, and then the next day if you have a bad practice day you might feel bad. But also as far as auditions its nerve wracking because you see and hear all these students that sound really good and you start to compare yourself, at least that's what happens to me, but if you prepare enough and go in there confidently it'll help.
Q: Are you nervous for the audition or excited?
A: Right now I'm a little nervous, but I'm still focused on getting the music down and practicing a lot. However with the day leading up more I do get more nervous.
Q: Do you have any tips for students who want to audition for All State? Is there something that might seem difficult to practice at first that really isn't?
A: When you're working on etudes you don't have to have it fast right away, I don't even have it up to the given tempo. Focus on the journey cause this is mainly about how you're growing as a musician.
Q: Do you have any advice for students who are too nervous to audition?
A: Yes because I always get nervous about the audition, but take deep breaths, focus on thinking how much you've worked on your music, and play to your best training.
Q: Anything else you'd like to add about your experiences, or any advice for new musicians coming into high school?
A: Doing honor bands are a great opportunity to meet new people from other schools that are still in band, because I also did other honor bands like Drake honor band. I met this girl that plays the clarinet, we played the same part, she goes to North Polk and she's a drum major and I saw their marching show, so I got to meet someone new because of that band.