Clay Bust in Action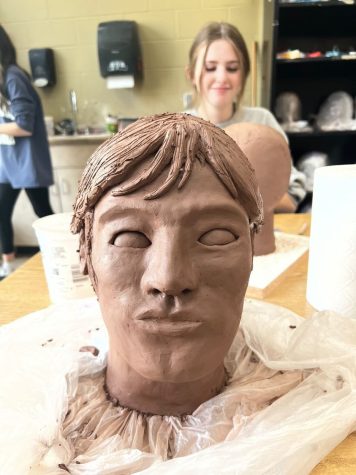 Students in ceramics are currently working on the clay bust project. 
Senior Hannah Schwemm is taking the class this semester. Ceramics was an easy enrollment for Schwemm due to the positive outcomes art gives her. 
"I wanted my senior year to be more relaxed because I had a lot of stressful years of school. I knew I wanted to take an art class because I really enjoy how I am able to let my creativeness have an outlet," said Schwemm. 
Ceramics has been keeping the clay bust tradition alive for many years now. Students who have never taken this class may know of this project because of the displays of past clay busts in the school. Though many do not know the process of making this art form. 
"You start by choosing someone you want to do, and it has to be three dimensional. You learn about how to create bases for yourself and things to mold the clay off of because it is not just a solid block of clay. You then wrap clay around newspaper that you end up folding into shapes that you want for the head and the neck. Then it is just molding and layering and making sure it all blends," said Schwemm. 
Besides the opportunity to learn new skills, students taking ceramics and other art classes have recognized the benefits to the atmosphere of the art department. 
"My favorite part about the class is the ambiance. It is a huge difference coming from a class where it's constant noise to something that is peaceful and able to be in your own mind," said Schwemm. 
Ceramics is a way for students to experience a new learning environment and be a part of the Southeast Polk art tradition.
"I think that it's a great kind of breather from the normal classes at Southeast Polk. It doesn't have to look good, you can call it abstract," said Schwemm.