Practicing Kindness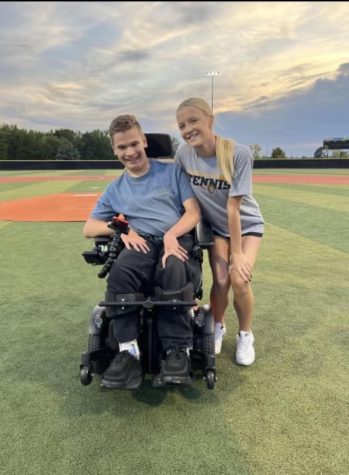 According to Dartmouth University, "kindness is contagious. The positive effects of kindness are experienced in the brain of everyone who witnessed the act, improving their mood and making them significantly more likely to "pay it forward." 
This means one good deed in a crowded area can create a domino effect and improve the day of dozens of people!" 
Junior Zeb Hinze tries his best to be kind to everyone. He volunteers at his church, and tries to uplift his teammates by spreading positivity.
"I try to be kind by being friendly, spreading my joy to others, and just doing little things like saying 'hello,' and 'good morning,' holding the door, or smiling," said Hinze. 
Hinze also said he looks up to his mom and Tim Tebow because they are good positive influences. 
Others spread their kindness by doing things. Junior Lizzie Douglas spends many hours volunteering in the summer at Kids Cafe. She is the assistant volunteer coordinator, ensuring each kid and volunteer has a good time. 
Douglas makes personal connections with each student who comes into Kids Cafe. 
"Kids Cafe has helped me have an open mind and to realize everyone comes from their own unique situation. I try to treat people the way I would want to be treated and made a rule for myself that I won't say something about someone that I'm not willing to tell them to their face," said Douglas.
Douglas is inspired by Maggie Crabb. 
"I look up to Maggie Crabb because she does so much for the community and consistently treats others with kindness, respect, and empathy," said Douglas.
Maggie Crabb is the Executive Director of Kids Cafe, she has dedicated countless hours to the Southeast Polk and surrounding communities. 
Another way that students can spread kindness is by being involved in certain extracurricular activities.
Stevie Bouchard is the President for Southeast Polk Best Buddies. Bouchard tries to be kind by trying to just listen to others and help them if needed. 
Best Buddies has taught her to help others feel included. 
"Best Buddies makes me feel important because when I include buddies and see how much fun they are having, I know that they are having a good time and feel included," said Bouchard.
There are many different ways to show kindness during school hours or at extracurricular activities. Simply just saying hello or giving a compliment can brighten someones day.