December Musician of the Month: Remaunel Narruhn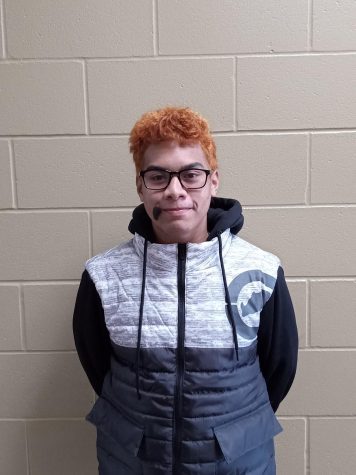 Q: What are all the instruments you play in the band?
A: I'm a percussionist, chimes and all that.
Q:How long have you been a percussionist?
A: Almost a year. I started in January of this year, so last school year.
Q: What does it feel like to play?
A: It was awesome, because back in the country I'm from, we don't have a lot of percussion stuff.
Q: What's your favorite song or type of music to play? Why is it your favorite?
A: Just soft music and jazz. There are some songs from marching band that I really like too, like the Egyptian song we did. That's my favorite one so far.
Q: What was it like to play football and be in the marching band at the same time?
A: It was kind of complicated at first. It was a lot of hard work to do. In the beginning with football camp, we'd start in the morning and go until noon, but band camp also started that same week. I'd have to go from football camp to band camp and be there until nine. I was tired, but the outcomes of both made it worth it. I learned two different things at one time, because I'd never experienced either of the two things before. I got to make new families on both sides.
Q: What are some accomplishments you're proud of?
A: We won at Urbandale and at Valleyfest we came in at fourth, and now I know how to read music. I didn't know how to do that before, but now I do.
Q: Do you have plans for after graduation?
A: I'm trying to apply to some colleges, especially the University of Iowa, the Hawkeyes. I wanna go there and try out for drumline and join their marching band. I want to continue some ecological/farm things and try to continue my science and art careers. I've taken field ecology and a lot of art classes here at the high school, so that's what I want to continue in college.