Speech Prepares for Competition Season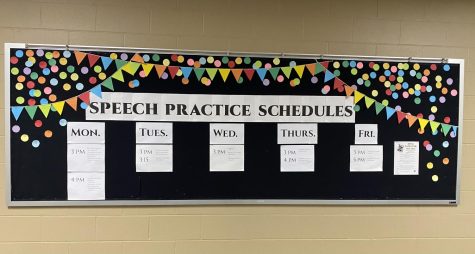 Speech is currently preparing and getting ready for their competition season that starts in late January. 
Junior Ashlyn Lamb has been a part of the club for two years now and knows everything speech has to offer.
"Speech is a club. There are a bunch of different groups within the club and there are many different topics. There is improve, acting, TV news, and radio news. We get together and write our own scripts for competitions that happen in January through March," said Lamb.
Meetings for each speech group are posted on the bulletin board on the second floor. Lamb is a junior coach and helps run her TV news group during meetings.
"We really try working on forming a bond, which is the most important thing we do first. It is hard to express yourself with people you do not know. Then we work together on deciding what we want to do for our script and learning how to work with each in a way that makes everyone feel comfortable," said Lamb. 
Being a member of speech comes with having important strengths and skills in order to be successful. Students in speech have background knowledge in public speaking, writing, and comfortability on camera.
"Being a people person is really important for speech. It is hands-on, you work with so many people all time," said Lamb.
Speech gives students experience in group work, speaking in front of crowds, and talking skills. Lamb has expressed how Speech has made it less stressful to talk to people and speak in front of large audiences.
"The hard work pays off in the end when you go to the competitions and get a good score back. Or even if you don't, it is still fun to be there because you get to hang out with your friends all day long," said Lamb.