January Artist of the Month: Caitlynn Bell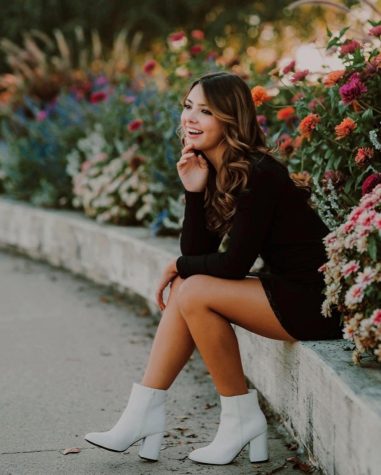 Q: When did you start creating art?
A: All through elementary I just loved art.
Q: What art classes have you taken?
A: I've taken art one, two, and three, painting, drawing, and art seminar, and then I'll be continuing art seminar next semester.
Q: What is your favorite art class you have taken?
A: Art seminar because we do multiple projects, one we did out of ceramics, and the next we got to choose our project, and the next we did a scratchboard, and I just like focusing on different things instead of just one project.
Q: What's your favorite medium to use and why?
A: I'm more into painting using brushes. That's about it.
Q: Are you planning on continuing art after high school? How?
A: I'll maybe stay in it, but not for a career. It can be frustrating sometimes.
Q: Why did you get into art?
A: It's just fun and a fun way to pass time. When I create things, I like to give them to people, and gifting them makes me feel good.
Q: What art project are you most proud of?
A: My gnome.
Q: What are some challenges that come with art? How have you overcome them?
A: When I mess up on a piece, it's so frustrating. Right now I'm working on a painting and I can't seem to get it right. Like the colors and getting everything in the correct shape. It's so frustrating.
Q: What advice would you give to students interested in art?
A: Just keep going with it. Like no matter how frustrating it gets, just keep going with it because it will end up good in the end.