Ticketmaster Botches The Eras Tour On Sale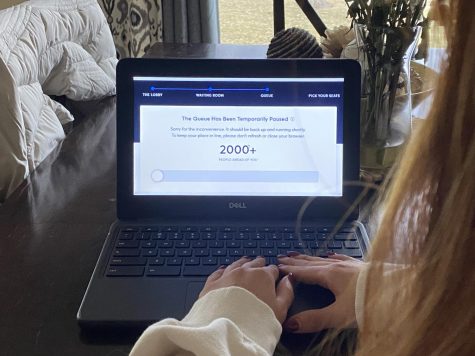 On November 15, Taylor Swift fans prepared for the selling of tickets for Swift's first tour since 2018. The Eras Tour was described as 'The Great War' for Taylor Swift fans everywhere. Whether fans received tickets or not, the day was filled with unexpected events that left fans stressed. 
Senior Emma Etnyre was one of many that tried to get tickets and were left disappointed with none. For her, the hope of getting tickets was left up to her mom because of the conflict of being at school during the sale. 
"I gave my mom my code and she tried all day. Her queue was paused for four hours and then when she finally got in she had good seats selected, but when she went to check out it said that she wasn't logged in, even though she was," said Etnrye. 
These circumstances were relatable for many, leaving Etnyre with no tickets. This common issue for fans stemmed from Ticketmaster being unprepared for the amount of buyers. 
"[I blame] mainly Ticketmaster for sending out so many codes and not requiring a code to get into the waiting room and the queue, because you only needed one when you actually got to the seats, which made everything so crowded," said Etnrye. 
Just like other Swift fans, Etnyre has admired her work and been a fan of Swift since she was four. The events of not getting tickets was harder for longtime fans.
Senior Alahna Vroom is also a longtime fan who tried getting tickets during her school day. 
"The tickets went on sale during school. I got into the queue for two minutes before it was paused for the majority of the day. I finally got through and I clicked on the first thing I saw, I got seats between the upper and lower bowl. Looking back I actually can't believe how I got the tickets," said Vroom. 
Everyone's experience had the same difficulty but with different outcomes. After the sale happened, Swift released a statement that connected her back with her fans.
"I really love how connected she is with her fans and really listens to them. I'm glad she said something publicly on her page about everything going on," said Vroom.