February Artist of the Month: Audrey Hodges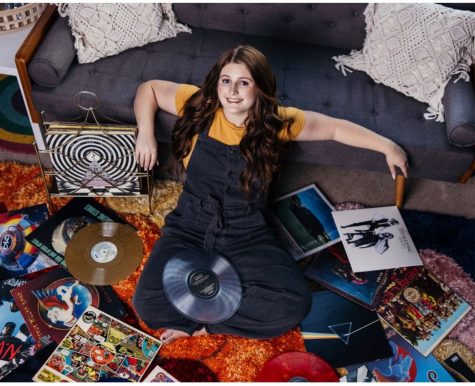 Q: What are your plans for after high school?
A: I'm unsure, I want to go to DMACC to either be in business or engineering. 
Q: Do you plan to pursue art in some form in the future?
A: I do not plan on pursuing art. I just took the classes for fun.
Q:  What is your favorite style of art?
A: I liked painting with acrylic.
Q: When did you first begin to become interested in art?
A: I became interested in art in elementary school. I know I'm not good at art, but I enjoy doing it and find it fun as a hobby.
Q: What art class(es) would you recommend?
A: I would recommend painting if you really like art. It was a very chill class with more freedom, I would also recommend cultural crafts to kids who don't like art as much its fun and different.
Q: How did you get interested in art?
A: I started to like art in elementary. My elementary art teacher Ms. Rondeau was so fun and made art very enjoyable. She did summer art classes that I attended as well.
Q: What tips do you have for people interested in art?
A: You don't have to be good at art, it's just fun.
Q: What is your favorite piece of art you have created?
A: My favorite art that I created was a pinch pot in 2nd grade it was so good it got entered into an art book but my favorite project in high school was from Art 3. It was a chalk drawing of a picture I took of the ocean in North Carolina.
Q: What art classes have you taken?
A: Art 1,2,3, Photography, Cultural Crafts, and painting.
Q: Which art class has been your favorite?
A: Cultural Crafts because Ms. Wetzel made it fun and also painting, because I had some freedom.
Q: Is there a certain art teacher that has helped you the most?
A: Ms. Wetzel was very helpful through high school art, she made the class very enjoyable and I learned a lot.