Wrestling team pins yet another state qualification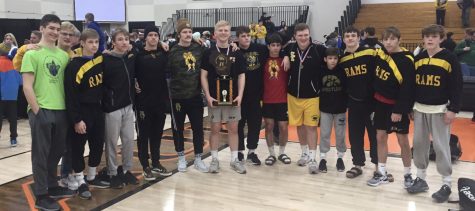 Coming up on February 20, the wrestling team will take on the 2020 wrestling state tournament.
The wrestling team in the past has done very well at state and hopes to continue their streak of success this upcoming month. 
Last year, they received dual champion state titles and three state champions: Cade DeVos, Lance Runyon, and Gabe Christenson.
Eric Morrow is the freshman wrestling coach who also helps with JV Gold at wrestling tournaments. As a coach he has to adapt to each individual and their differences.
"Each individual is different and responds differently to interactions.  I think we do a pretty good job as a staff figuring that out and putting the right people in the right position to help the wrestlers reach their max potential," said Morrow.
Senior Gabe Christenson will head to his fourth state tournament this season. Christenson wrestles in the 195-weight class at state. Through his time being on varsity, Christenson has won a state title and has placed the other two times at state.
State is a huge tournament and the wrestlers every year have a lot of anticipation and excitement going into the tournament so staying relaxed is super important.
"I normally find ways to keep myself relaxed like playing games with my teammates helps me get rid of some nerves," said Christenson.
The wrestling team will take on 64 tough teams in the 3A division at state. In the past, their toughest competition has always been Waverly-Shell Rock, so they are expecting the same team to be just as competitive as they have always been. The wrestlers have put a ton of work into the season to be as good as they are. The Southeast Polk wrestling team is now currently ranked 21 in the nation, so their team is something to be proud of.
Senior Connor Brown along with the team have put a lot of time and dedication into every practice, match, and tournament to ultimately hope it pays off come February.
"We work hard all season for the big finale, we've put in our work, by then the cash is in the bank, so all we have to do is trust our coaches and go get it," said Brown.
Today the wrestlers take on the CIML tournament. These tournaments can help the wrestlers prepare for state. Come out and support the Southeast Polk wrestlers today and at state.