Girls' Wrestling Competes at First Sanctioned State Tournament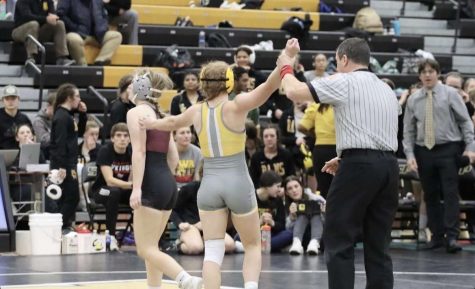 Southeast Polk Girls' wrestling competed at their first sanctioned state meet February 2 and3 at Xtream Arena in Coralville. The team placed seventh overall going in with seven individual qualifiers. 
Junior Carissa Hersom is a first-year wrestler for the Rams. Despite the fresh face, Hersom already has a regional win and a top 10 state finish under her belt.         
"I joined wrestling because it was something I could do individually," said Hersom. "It has the team aspect, but you're responsible for yourself too."
The state tournament uses a technique called 'double elimination.' This means you can lose two rounds before you're knocked from the bracket.
"Double elimination is good because you get a second chance if you lose your round. It allows for some backfall, but it also adds pressure," said Hersom.
Hersom believes the success of the girls' wrestling program comes from their work ethic during practice. The team set goals at the beginning of the season and worked hard to achieve them.
"We work hard during practice to prepare for meets," said Hersom. "We always want to win, so we set goals to have something to strive towards."
With lots of young talent brought to the girls' wrestling team, the Rams look forward to their successful future.