Athletes Announce their Commitment to Play in College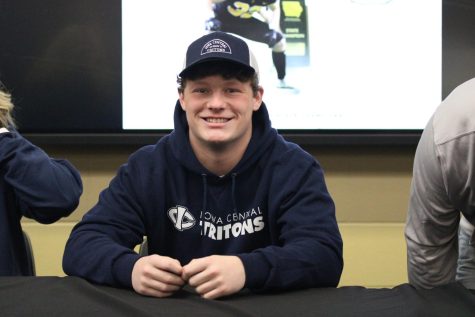 Athletes in the class of 2023 are committing to play sports in college as the underclassmen begin figuring out what they want to do with their athletics. 
Senior Drake Mayo recently signed to play football at Iowa Central community college. He shares why he decided to continue football. 
"I love being able to build relationships with coaches and teammates and find new people. It's the sport that I love playing and I want to be able to improve my game at the next level," said Mayo. 
Mayo knew he wanted to continue his sport, so he put in hard work in order to continue his football career. 
"I was reaching out to a lot of coaches, and a lot of coaches reached out back, but a lot didn't so I stayed motivated throughout the season, worked really hard, and I asked for a lot of help," said Mayo. "A lot of people were there for me and I finally got where I wanted to be."
In the fall of 2022, senior Josie Newton announced she will continue her academic and athletic career in soccer. 
"I've been playing soccer my whole life and I didn't really know I wanted to play in college, but the idea of never playing again scared me and kind of freaked me out. My body was healthy enough to continue playing, and I didn't really want to just be done with it after high school," said Newton. "That's where I was like I have the options to keep playing so I might as well continue."
Both Newton and Mayo agreed that hard work is important in order to get where you want to be. Mayo shares how hard work is necessary to achieve your goals.
"Everybody wants to play in college, but not everyone wants to put in the work. So if you're going to put in the work and see your goal, all you got to do is work for it. It's really important you stick with it," said Mayo. 
Newton didn't decide she wanted to play in college until later in her soccer career. She shares how she was still able to make it to the collegiate level. 
"I didn't know I wanted to play until later, so I didn't have very many options, but I had a lot of coaches who came to me. I would go to their camps in the summer and meet with them one-on-one and talk about soccer, college, post high school, and then give me more information about the program," said Newton. 
Both Mayo and Newton had to put a lot of effort in order to get offers to continue their sports.  
"Just keep grinding. It's not as hard as you think it is but it is also a lot harder than you think it is. Anyone can do it if they work, but not everyone wants to work because its hard. If you're willing to work and put in the time, then you can do it for sure," said Mayo.
Newton shared her advice to underclassmen looking to continue their sports."Start early. Start going to camps, start talking to coaches, because it's definitely possible if you start later, but it's a lot harder. So if you think, even if you're not sure if you want to play, start going to the camps and doing stuff early," said Newton.