Volleyball Spikes into Season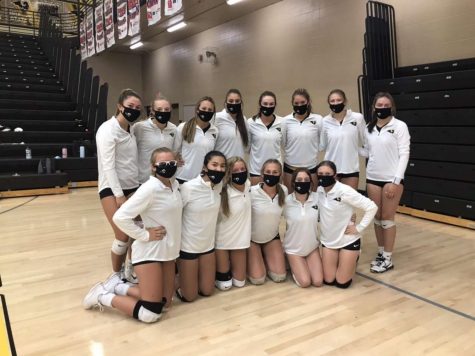 The 2020 Southeast Polk varsity volleyball season started in mid August.
With every season comes a new set of challenges for the team to overcome, and this year is no different. The COVID-19 pandemic has added complications to almost everything, but that doesn't get in the way of this team. 
Head varsity coach and social studies teacher Matthew Parker is feeling confident in his team. 
"Last year we were at 20:15 and this year we are at 3:9. It is only the beginning of the season to make a fair judgement, we graduated 9 seniors last year and we are slowly building and growing our team," said Parker. 
"We started out a little slow at the beginning of the season, but are quickly picking up speed. The more we practice together the more we are all connecting. We have a really good team all around and our passing, setting, and hitting all flow really well," said Myah Shipley. The team may be close, but they keep themselves safe from the risks of COVID-19. 
"We also have them sanitize frequently, including before and after practices. During games, we switch out balls to limit bacteria being transmitted," said Parker. No virus will keep this team from growing though. They still go to every practice ready to be better for the next challenge. 
"Our goals for this season are to just get better. We are a young team. Obviously our goal is going to be to win as many games as possible. Long term goals are just to be better each match and to improve every year," says Parker. While the team tries to improve their skills, they also improve their relationships.
"This year has been difficult having so many new people trying to connect, but it's been really fun. It is like a giant family, we all work together and support each other," said Shipley.