Athlete of the Month: Jalen Aguiniga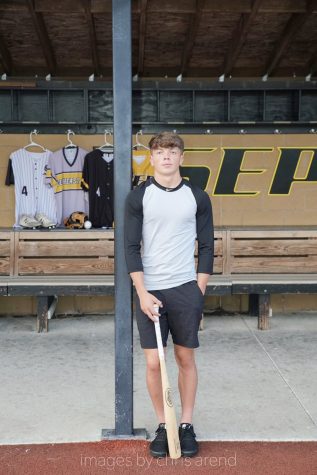 Q: What sports do you play?
A: I play baseball and football.
Q: What positions do you play in baseball?
A: I play the second and third bases.
Q: How long have you been playing?
A: I have played baseball since I was five.
Q: Do you plan on playing baseball after high school?
A: I plan on attending a Junior Baseball to play baseball.
Q: What do you enjoy about baseball?
A: Most people find it boring, but what I enjoy about it is all the little things that have to go right in order for you to win. I also like the sounds of the game like a bat hitting a ball or a ball hitting a glove.
Q: Do you have a favorite Major League Baseball team?
A: Yes, I like the Chicago Cubs.
Q: What does a normal practice look like?
A: The practice is usually about four hours long. We have a 30 minute warmup and then usually do base running for 30 minutes. Then, we head to the batting cages and do a hitting station for about an hour. After that, we do fielding and technique drills for 30 minutes. We close the practice with a scrimmage.
Q: What is your favorite baseball memory?
A: Probably when I played at Principal Park because I watched the 2014 and 2015 teams play there and it has always been a dream of mine.
Q: What will you miss about playing for SEP? 
A: All of my friends that play baseball with me. It has been a long two months and 40 games, so you create a really strong bond with your teammates.
Q: What was your best game?
A: When we played against Ankeny. I went 2/4 with my second double and I had three putouts.
Q: What advice do you have for a rookie starting baseball?
A: Don't count yourself out if you're not starting right away. If you work hard, the coaches will see that and they will find you a place to play.