Boys' golf has successful season
Southeast Polk takes an abundance of pride in its sports teams. This year, sports have been a completely different experience than they usually are, and yet despite this, the boys' golf team had a very successful season. They had one of their better teams recently, finishing seventh in the state tournament. Jordan England, the lone senior on the team, shared his thoughts on the season.
"I'm most proud of myself for making a goal at the start of the spring to make varsity, which I accomplished, and then my second goal was to make it to state. Which I obviously accomplished. That was something I was proud of, but what I was most proud of was making it to state but to count in part of the team score to make it to state," said England.
As a team, the Rams also achieved some of their goals during this successful season, and England also expresses pride in that.
"I am most proud of us for making it to state and how we set goals for ourselves and fought to achieve the goals we set for ourselves," England said.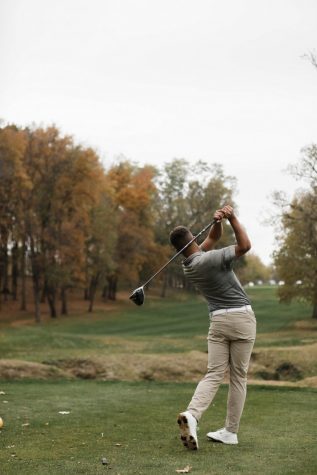 The way the golf team came together and were able to push each other was one of the most special parts of this year's team.
"Really the whole entire year no one was guaranteed a spot on the top six, so it made it just special to see how we all progressed and when it came down to the end of the year that's what separated us from other teams," said England.
The Rams had a great season, but it did not come as a surprise to England.
"Yes, we did our goal was to make state and win state. We felt like we had the right people there and had all the tools we needed to go out and win it all," England said.
England hopes to see this success continue into the future for the boys' golf teams.
"I would like to see [success] be a trend. The past three years I've played JV/varsity and we've really strived to change the culture of the program and I would like to see the 'youngens' realize that hard work pays off, and if you work hard anything is possible," England said.
The amount of success the golf team had only comes with lots of practice and preparation, and the team worked hard in practice to improve their skills.
"A golf practice for Southeast Polk is showing up at 3, hit at the range for 15-30 minutes then go out and play nine holes, then usually when we're done the coach has some chipping and putting drills for us to do, then most of us go out and play 9 more after practice," said England.
England had many highlights to cap off his high school golf experience, but a couple of moments stood above the rest.
"My favorite moment this year is probably making it to state, it was pretty emotional just because it was my senior year, and then just being at state was awesome," England said.
England had a great time playing at state, and it made him feel as if he was on the pro tour.
"My experience at state was one to remember. The environment was phenomenal between the top of the line course to the fans and parents there supporting was awesome. It really had the feeling like you were in the Tour from them announcing your name on the first tee, to the fans surrounding the 18th holes green. It was one to remember for sure," England said.