Senior football player enjoys first year on team
The football team will go head-to-head with Ankeny High School on Friday, September 17 at 7 p.m. at Ankeny. There is a lot of excitement coming to the Southeast football team this season.
One of the players that will be playing in the game this Friday is senior Junior Zoaryan, who has high hopes for the season. 
"We're gonna go out big by winning the championship," Zoaryan said.
So far, Southeast Polk's winning streak is 3-0 while Ankeny High School's record is 2-1. Zoaryan has many goals for the game.
"Have fun because that's what football is all about," Zoaryan said. 
Zoaryan has a lot of faith in his teammates. Some of the players he mentioned are senior Xavier Nwankpa, senior Andrew Harris, and senior Stephen Saywahn. 
"Saywahn is good at football and Nwankpa knows everything with offers all over the country," Said Zoaryan. "Harris is like my ride or die as well as my teammate."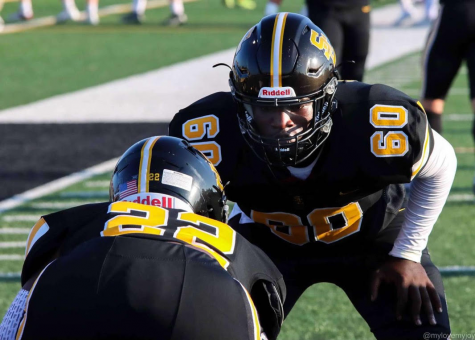 Zoaryan wanted to play football since he was little, but his mother has always been too scared to let him. This year will be his first year as a player on the Southeast Polk football team. 
There are a few different goals Zoaryan is looking forward to succeeding. Just even playing in the game is something he loves.
"I'm looking forward to perfecting my craft," said Zoaryan. "Coach Zelenovich is very uplifting and gets me pumped for every game." 
Coach Z has been coaching for a long time and Zoaryan looks up to him since he knows football so well. 
Football has often been seen as a stress reliever. Between tackling and protecting their teammates, there is always action on the field.
"I prefer defense because I feel like it fits me better and I want to tackle people to get my anger out," Zoaryan said.
The football team is always grateful to see a full student section. The support always helps. Zoaryan has offered advice to players in the coming years. 
"[People should] enjoy playing while it lasts because you never know when it can end," Zoaryan said.