February Athlete of the Month: Anna Sharp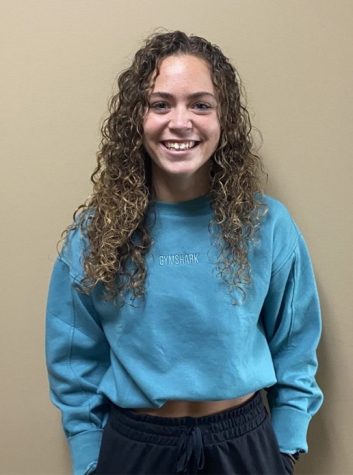 Q: How long have you played soccer?
A: I have played soccer for about 10 years.
Q: What got you into soccer?
A: I got into soccer because a close friend wanted me to try it with her and I thought it was worth the try.
Q: Do you plan to do soccer after high school?
A: I am committed to Simpson College to play soccer and hope to coach in the future.
Q: What is your favorite part about soccer?
A: My favorite part about the sport is the family. It has brought me between school and club ball I have met people all around the world. Every single player or coach I have met along the way has shown me the deep connections and support a sport can bring. Going to practice every night and stepping onto the field for game day with your best friends is something no athlete can forget.
Q: What advice would you give incoming Freshmen who will play soccer?
A: Take advantage of the time they have. High school goes by so quickly so don't get too caught up on which team you're on or how well you played, soak in the family and experience soccer will bring you.
Q: What is the hardest part about soccer?
A: The hardest part about soccer for me has been developing the mental toughness to get through the days I feel I have underperformed. This growth in mindset has enhanced my performance and creates a positive attitude I can lead my team with no matter the outcome.
Q: What is your favorite memory from soccer?
A: My favorite soccer memory would be my trip to Europe in 2019. During this trip my team played in Denmark and Sweden, placed third in the world's largest tournament, and met players from many different countries. I stay in touch with players I met from Sweden and Denmark to this day.
Q: If you could change one thing about soccer, what would it be?
A: I would like to see the Southeast Polk community provide as much support for soccer as they do other sports. I encourage everyone to come to a game and see the product of our hard work.