March Athlete of the Month: Addison Powell
Q: How long have you been running track?
A: 6 years including this year.
Q: What is your favorite event and why?
A: 100m hurdles because it always has a different outcome depending on the weather and surroundings, so you never know what you're going to get!
Q: Who introduced you to track?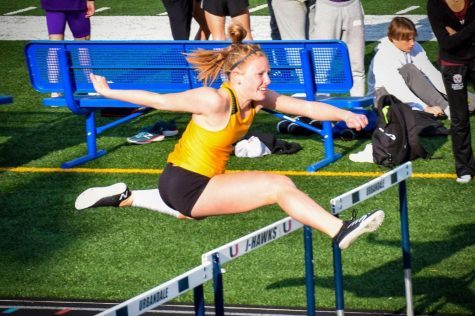 A: My dad, he ran track in high school and college, and he signed me up in seventh grade and I've loved it ever since!
Q: Do you like relays or individual events better and why?
A: I like relays because I love the team aspect of it. It's fun to cheer on others and know that you're a part of the success when they cross the finish line.
Q: Why do you run track?
A: I run track because I love it and the environment of track meets is an environment like no other!
Q: Why should people run track?
A: People should run track because it's fun. It's fun to be around all the people that want the same things as you and the family that our team has become is amazing.
Q: What is your favorite memory from track?
A: My favorite memory from track is crossing the finish line for shuttle hurdle at the state qualifying meet and giving my best friend Bailey the biggest hug ever because we had made it to state!
Q: What is something you're looking forward to this season?
A: This season I am looking forward to meeting all of the new underclassmen and making them feel like a part of the girls' track family.
Q: How do you keep your team motivated as a captain?
A: As a captain and just as part of the team one of my favorite things is cheering others on even if it means running from one side of the track to the other, cheering for everyone is my favorite way to motivate others!