SEP Athletes Participate in Drake Relays
The Southeast Polk girls' and boys' track teams will be sending athletes to the Drake Relays Thursday April 28-Saturday April 30.
According to University of Iowa Press, "The Drake Relays are one of the iconic events of track and field in the United States. World and Olympic champions test their speed and stamina on the famed Blue Oval in Des Moines, Iowa, every April, and by spring 2013 they had set fourteen world records and fifty-one American records. But unlike most other top meets, this one also features college athletes from all over the country and high school athletes from across Iowa, giving them the experience of a lifetime—competing on the same track with the elite in their sport."
On Thursday April 28, high school athletes will compete, while college athletes compete on Friday April 29, and Olympians compete on Saturday April 30.
"Biggest difference is the level of competition. All classes combined, only the best of the best. It also gives high school athletes the opportunity to compete and be around college level athletes as well as several Olympians every year," said head coach Chad Willeford.
Unlike regular meets, there are no class levels in the competition. Along with that, there are around 40,000 fans at the relays unlike normal meets with around 100 fans, many being friends and family of the athletes.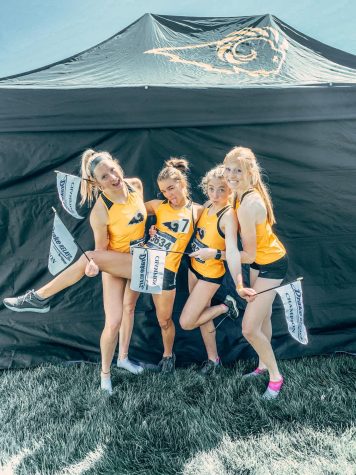 Senior Titus Christiansen was an alternate for the 4×1 his freshman year and competed in the 100m dash, 4x100m, and 4x200m his junior year.
"[Qualifying for the meet] was good, I think I just had to hit a certain mark, time, and then I think I had to be in the top 16," said Christiansen.
Christiansen has qualified in the 100m dash, 200m dash, 4x100m, and 4x200m for the 2022 relays.
Sophomore Libby Hartz ran the 4x800m her freshman year and has qualified for the 2022 relays as well.
"Getting to run at the blue oval is always enjoyable because of the atmosphere and knowing you're competing with the best people. You get the chance to win something big and do something big," said Hartz.
The atmosphere of the relays is different and enjoyed by many athletes.
"COVID changed the relays just like every other big venue event.  First year was canceled, second year restrictions on the venue, etc.  This year looks to be almost back to "normal"," said Willeford.
There were restrictions on the fans and the amount of space between team camps increased. Additionally, events that were traditionally competed that included college athletes and Olympians were not competed last year, but are set to make a return in 2022.
"Yes, because it's a super big thing to win and you have to perform well," said Hartz.
" Yes, they did because it's a way bigger meet, a lot more things," said Christiansen.
Christiansen and Hartz agreed that it is much more nerve wracking at the Drake Relays than other meets.
"We don't prepare for Drake any different from all other meets. It falls on a time during our season when we are still trying to prime for state qualifying. Drake is a great meet, but it is not one of our top priorities. I look at it as more of a showcase meet," said Willeford.
Although the relays are a big event, training is the same for every other meet as the team is also training to qualify for state.
You can watch the relays live on April 28th-April 30th at watchathletics.com.