Boys' Golf Swings for State
The Southeast Polk golf team is officially in full swing. The season started in early August just a few weeks before school started.
The team has been practicing on their own during the summer months to better prepare themselves for the upcoming season by playing in tournaments, swinging at the driving range, and simple recreational play. Coach Powell noted that he can definitely notice the hard work the boys put in during the summer months.
"We have seen some of the biggest leaps in improvement from one year to the next this season, which has been fun to watch," said Powell.
Though the season is still early the boys are moving their way through the rankings and are hopeful for a return to the state tournament.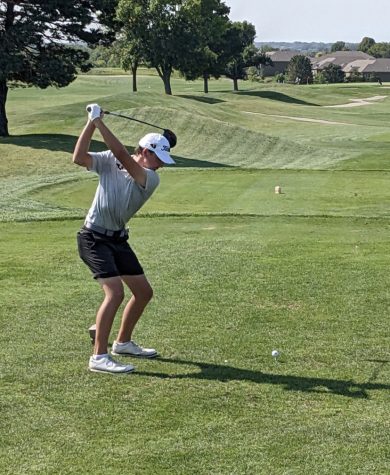 Individual varsity player junior Sam Wahman is a third year varsity player, currently ranked ninth in the state for the best eight-teen hole average with a 73.4 according to Varsity Bound Golf.
"It's going great man," said Wahman. His lowest score this season so far is a 71 at Otter Creek golf course. Wahman hopes to play golf at the University of Northern Iowa after high school.
The rest of the team also is off to a good start with a team record of 11 and 3. Powell said that this group of boys has a different feel to it then years in the past.
"We graduated a very accomplished senior group from last season so it left open a lot of opportunities for new guys to step in," said Powell. "They have done a great job with it so far and hope to keep building off the progress they have made." said Powell.
The Rams hope to make a return to the state tournament for the fourth year in a row. Last year they came up short placing third but this year they have strong hopes of advancing further this season.
"It is one of our deepest teams talent wise which has made it very competitive for varsity spots," said Powell.
As the season progresses the team continues to work hard on the course after school each day in preparation for the conference meet, and eventually hopefully a state title.