Softball Ends the Season on a High Note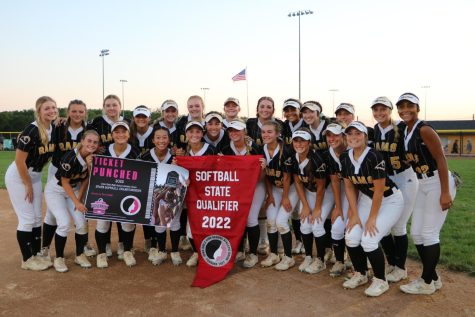 On Saturday, July 9, girls' softball kicked off their postseason with a win over Cedar Rapids Jefferson at their first regional game. On July 12, they beat Ankeny, sending them to the state tournament in Fort Dodge. The Rams went on to face Valley and Waukee on July 18 and 19 where they lost in the first round. The team ended up 2-2 in the postseason. 
Senior Addi Brunner, has been playing softball since she was six years old. She has been a huge part of the success for the team for the Rams over the past few years. Contributing to the program, Brunner worked hard to keep her team motivated throughout the season. 
"We always talked about what our goals were and what we were working for. We focused on how to reach what we wanted, and our unity as a team," said Brunner. 
Head coach Tia Stiles has been coaching the Rams for 24 years. 
"I started coaching because I love sports. I'm competitive, and I wanted to have a positive impact on student-athletes. I wanted to give back to the sport that has had a great impact on my life," saidStiles. 
With over 35 games this season, a team favorite was the regional game against Ankeny. 
"My favorite memory this season was qualifying for state and beating Ankeny in the regional final. It was a big game, and everyone was excited, it made the game super fun and competitive," said Brunner. 
Stiles spoke out saying how the best games are the competitive ones where she gets to watch the girls work hard and have fun. 
"We had memorable games all year long, but one of my favorites was playing Ankeny in the Regional final game. It was a fun, fast paced, and competitive game. It was special to see our kids work hard and accomplish one of their team goals, making it to state," said Stiles. 
Teammate and junior Libby Hartz has been playing softball since she was five years old. 
"I like being able to be competitive. It's fun having such a large team, especially when you know everyone is working towards the same accomplishments and goals. It allows me to play with some of my best friends who always push me to be my best," said Hartz. 
Hartz enjoyed the team bonding aspect of the season. The Rams had team breakfasts before the regional games, as it was a way for the team to get on the same page and put their heads together before some of their biggest games of their season. 
"Some of my favorite memories from this season were our breakfasts at the softball field before the regional games. It helped relieve nerves, being together with everyone, and being able to focus on something bigger than just the sport itself," said Hartz. 
The Rams ended their season with a final record of 25-14. With a lot of new talent and time to work hard, the team is looking forward and working towards next season, to be sure they're ahead of their new goals and accomplishments for the upcoming year.