October Athlete of the Month: Kadyn Proctor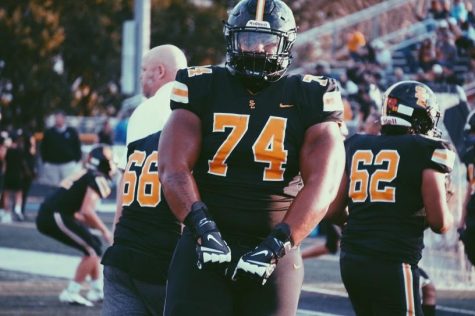 Q: When did you start playing football? 
A: I started playing tackle football in 3rd grade.
Q: Who has inspired you throughout your career? 
A: NFL Players that I have looked up to and also my dad, he played football in college. 
Q: What has enabled you to get where you are today? 
A: Hard work, focus, help from my coaches and my teammates, and just a lot of support. 
Q: What do you plan to do after highschool? 
A: Planning to go to college. Get a good education while playing football at Iowa. And hopefully do what I'm supposed to do and go to the NFL. 
Q: Do you have any pre-game traditions? 
A: We have a glove that is passed down from linemen to linemen, one of the top linemen at Southeast Polk, and it is passed down from the best linemen, we all have to kiss it before the game. And probably listening to music. 
Q: Do you have any post-game traditions? 
A: We sing "Ain't no Mountain High Enough" and then just celebrate and go out to Applebees and eat. 
Q: What goes through your head right before a play starts? 
A: I think about what I'm going to do and just think positive thoughts. And just imagine myself going to do what I'm supposed to do. 
Q: What is your favorite memory from high school football? 
A: Winning the state championship and being a captain on that team. One of the first [captains to win state championship] in school history. Just a special moment for me because you know first one ever in school history has some meaning to it, and also being the captain. 
Q: How have other people helped you improve? 
A: They have showed me a lot of support with me supporting them. You know it's just a love component. We build each other up and go on from that.