Girls' Rugby Starts Off Strong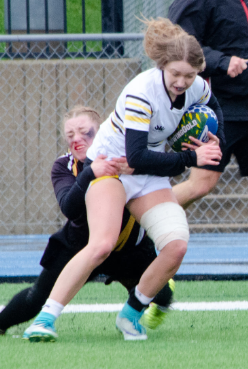 Girls' rugby kicked off their season against Cedar Falls on September 26 with a win. Junior Felicity Severs has been playing rugby for three years, and her success on the team has carried the girls to many wins and a state championship.
"I joined rugby because I wanted to play football in junior high, but I was too scared to go out," said Severs. "Rugby is similar so I thought it would be fun to try it out."
Severs, along with the rest of her team, enjoys the long bus rides to away games. They use it as a bonding experience to prepare for the game. 
"When we get party buses, we listen to throwback music to get ready for our games. It's a great way to get hyped up before we play," said Severs.
Teammate and senior captain, Emma Schaefer, has been part of the rugby program since she was a freshman. As a junior, Schaefer already had two state titles under her belt, and is hoping for a third this year.
"My favorite memories are winning state. It's always our goal every year, but to do it is insane," said Schaefer. "Rugby is a hard sport, so winning my freshman and junior year was pretty gnarly."
The state championships are being held at SEP this year. Girls' coaches Joe White and Brent Wheeler are doing what they can to lead the girls to another state title.
"Our head coach is Joe White, and our assistant coach is Brent Wheeler. Joe was in the Army and expects nothing less than discipline and hard work from us every day," said Schaefer. "Brent was inducted in the Iowa Rugby Hall of Fame and has an insane amount of rugby knowledge and experience. The two make a great team."
With experienced coaches and returning state championship players, girls' rugby will look for another state championship title on October 30.