RhythAMetteS at State
Dance team competes at state championship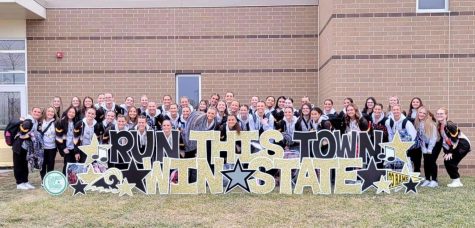 The RhythAMetteS competed at the ISDTA State Dance Championships on Friday, December 2 at the Wells Fargo Arena in Des Moines. Out of nearly 600 routines and 15 categories performed at this competition, the RhythAMetteS entered in hip hop, jazz and kick. 
Senior and captain Maesi Caes was involved in all three dances. Caes has been a part of the elite RhythAMetteS since her freshman year and loves the experience it brings for dancers.
"My favorite dance this year was jazz because I loved the choreography. I thought the glove concept we used in our costume was really cool," said Caes. 
As a veteran on the team, Caes has been a role model for the underclassman. One of the roles she took on this year was making sure she paid attention to details so she could help with her teammates' questions. 
"It's important to set a good example because the younger dancers look up to you. You always need to be paying attention because you never know when someone might have a question," said Caes. 
Teammate and sophomore Molly Opp also competed in all three dances at this year's state competition. Opp has been dancing for eight years, with two of those being on the RhythAMetteS.
"When I was younger, I went to all of the camps and clinics they had and I loved it," said Opp. "I knew once I got to high school I was going to try out for the team."
To prepare for state, the team practiced four days a week. They held a dress rehearsal to finalize last minute details and practice in their costumes. 
"I practiced a lot inside and outside of practice to prepare. I also made sure to remind myself of corrections when watching videos," said Opp. 
With the RhythAMetteS elite teams dedicating their season to the hunt of state titles, hard work, determination, and perseverance were prevalent to these girls and their teammates.
With the outstanding placings of first in kick, third in jazz, and fourth in hip hop, the RhythAMetteS are now preparing and making changes for their next regional competition in January right here at SEP high school!