Rolling Through The Season
Bowling team hopes to finish strong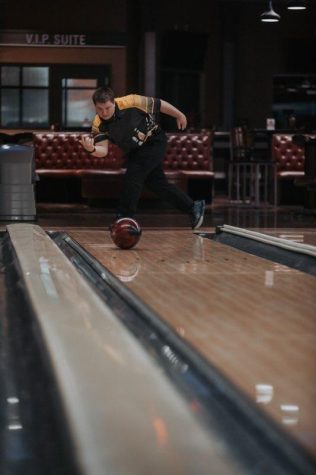 The bowling team is starting off strong for its 2022-23 season. The team's record stands at four out of five wins as of January 9. With only three meets left, the bowling team is hopeful for more wins. 
Junior Gabby Swaroff has been bowling for two years. This season she has been bowling with varsity, and her highest game so far was a 171.
"I thought [bowling] would be fun and I wanted to do something with my friends," said Swaroff.
Bowling, while being a fun activity for friends and family, has technicalities behind it that non-bowlers don't realize. Bowlers for SEP's team use special balls that have a core; these help the balls 'tumble' or spin in a certain direction to more accurately hit the balls. Regular balls at the bowling alley don't have these. There's also different types of approaches for bowlers. All these and more are taught on the bowling team.
Senior Garrett Rayl has been on the team since freshman year and has been bowling for eight years.
"Honestly it's really fun," said Rayl.
Rayl's highest game is a 275. Games consist of 300 points, the closer someone is to 300, the better. Games have 10 frames, with two bowls for each frame. With a strike, you only get one bowl in the frame. Otherwise, you have two tries to knock all the remaining pins down. 
Those interested in bowling are encouraged to sign up next year for the 2023-24 season. The season typically starts in November and ends in February.