Bathroom door stops aim to curb vandalism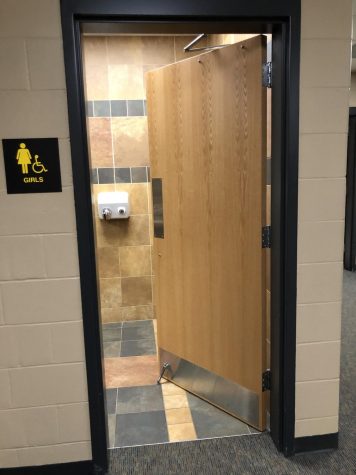 External bathroom doors are now propped open at all times.
The move is to prevent everything from students destroying school property to loitering in the bathroom. The administration's solution to this problem was to enforce hallway passes. They also decided to prop open the doors to prevent vandalism, vaping and lingering students. This has solved a lot of the destruction caused in the bathrooms.
Principal Steve Pettit sent a mass email to all students and parents distributing this information. He informed them that the bathroom doors would now be propped open due to the events happening behind the doors. Pettit explained what was happening and how the administration took certain measures, such as frequent bathroom checks, to try and eliminate these behaviors.
"Some students are loitering in the bathroom, purposefully overflowing toilets and urinals, turning off lights, vandalizing property, and have made other poor choices which cause other students to feel uncomfortable entering the bathroom. The administration shares this concern and has taken measures over the past month in an attempt to reduce these behaviors. There has been some improvement, but these behaviors are still occurring," said Pettit in the email.
The email stated how students felt unsafe using the bathrooms because of what was happening.
"In an attempt to reduce the loitering and other inappropriate behavior within our student bathrooms, we are currently upgrading our bathroom entry doors so they can be held open," Pettit said in the email to students.
The administration announced this to all parents and students before the doors were propped open. They plan to do this for the rest of the year and the years to come to prevent negative behaviors.