Behind The Scenes of Yearbook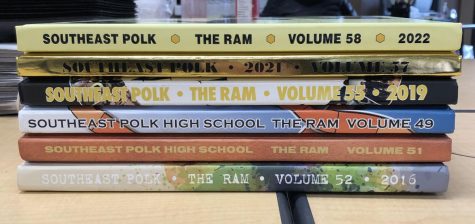 The yearbook staff works hard every year to create a book that's filled with memories and nostalgia for everyone. 
Yearbook Adviser Kristin Behrens has overseen the yearbook staff for years and shares how much work goes into creating a yearbook.
"I wish [students] knew how much work our students put into everything! They really are so meticulous about every detail on their spreads. They think carefully about what pictures to include, how to properly caption images, and how to effectively design a particular spread. In addition, students on staff are really concerned with coverage," said Behrens. "We are a large school, but our goal is to feature as many students in the school (as possible) at least three times. We carefully analyze who has been 'featured' on each spread, and take this into consideration when planning interviews and other components of the work."
Creating and designing a yearbook comes with many challenges and Behrens explains why it's no easy task. 
"I think the biggest challenge is also, in all honesty, one that makes our work really exciting. We truly want everyone who picks up the book to be a satisfied customer. This may sound simple, but this is actually really challenging. We want everyone to have a book that reflects the high school experiences of all students, rather than just a selected group of people. This is why coverage is so crucial to us. I'm really proud of how committed my staff is to coverage, for it truly reflects the type of people they are!" said Behrens.
While applications for Yearbook have already passed, it might be a good idea to start looking at your schedule for next year if you're considering joining the staff. Students should first take a semester-long course, Composition and Media Literacy, and it's recommended that they are good multi-taskers.
Senior Aubry Allen has been on the yearbook staff for three years and is currently serving as an Editor-In-Chief for the last two years. She recommends interacting with the yearbook staff to increase your chances at being in the yearbook. Equal coverage for all high school students and activities is very important to the yearbook staff. 
"Honestly, [students] should interact with us because we are friendly and want to capture each person's high school memories! We want people to look back at their yearbooks (and, subsequently, high school experiences) fondly. We want them to open each page with a smile. We want to share the stories of as many people as possible," said Behrens. 
Students can interact with the yearbook staff in a variety of ways. This includes responding to the surveys sent out to student emails and responding to yearbook staff members when they request photos and memories. The yearbook staff also interviews certain students to gain more coverage of an activity or event. If you're chosen to be interviewed, be excited!
There's an opportunity for seniors to interact with the yearbook currently, called baby ads.
"Baby ads are due for seniors on February 24. The baby ads will be located in the back of the upcoming yearbook! Also the staff greatly appreciates any participation from the student body when responding to emails sent out!" said Allen.