Students Share Packing Tips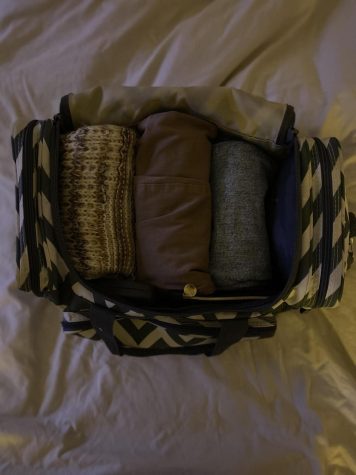 Students are looking forward to their upcoming trips during this Spring Break. However, many struggle when the time comes to pack bags or suitcases.
This spring break, senior Olivia Jackson is making a 20 hour drive to Arizona. Jackson tends to pack her belongings the night before, setting everything out on her desk and then placing it in her suitcase. Jackson believes that suitcases are the better choice when traveling. 
"I think a suitcase is better because they are easier to stack on top of each other. They keep traveling organized and I think you can pack more into a vehicle," said Jackson.
Jackson also packs a separate backpack to keep close during long drives or flights. 
"I also pack a smaller bag to keep with me that I will need for a car ride including a phone charger, snacks,= and earbuds," said Jackson.
Senior Lily Brindley is flying to Cancun, Mexico this Spring Break. Brindley starts packing by gathering everything she may need and sorting her belongings into piles. 
"I make sure I have the outfits I need, comfy clothes, shoes for the outfits, and anything else I may want. I pack as many toiletries as possible and leave a little extra space for the stuff I have to pack at the last minute," said Brindley. 
Brindley recommends that if you're not sure what to bring, you should bring a little of everything because she often finds herself wishing she brought more clothing. 
Due to this Brindley overpacks her bags often, so she has found ways to make extra space while packing.
"When I run out of room in the bag I am using to pack, I take shorts, shirts, etc out and roll them to make everything fit better. Putting stuff like socks or undergarments in your shoes also helps save room," said Brindley.