Teachers work harder than ever during pandemic
Planning for block and virtual learning creates new challenges
Due to COVID-19, Southeast Polk has switched to a hybrid learning model. Students go to school either Monday and Thursday or Tuesday and Friday, in addition to every other Wednesday. Students now have block periods, meaning they have an hour and a half of their odd period classes one day and even the other. 
During the days that students are not at school, they have assignments online or tune into class via Zoom or other platforms. Some students also chose to take their classes fully online. With these new changes and guidelines, teachers have faced many new challenges. 
Advanced Chemistry and AP Chemistry teacher Jed Dettmering has turned his classroom into a "flipped classroom" to maximize his students' time in class. A flipped classroom is having students watch lectures and take notes at home instead of during class time. Dettmering explained that this allows students to be able to ask questions during class since they are only in the classroom once a week. 
"The 'flipped classroom' also allows students to move at their own pace. I currently have one student ready to take the Unit 2 test while most other students are preparing for the Unit 1 test," said Dettmering. "A student can move at the pace that works for them and will allow them to learn the material to the best of their ability."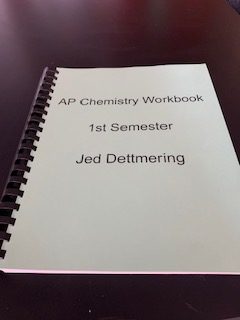 Along with the flipped classroom, Dettmering made a textbook resource for each of his AP Chemistry students. He made textbooks for both the hybrid and the fully online students. The textbook includes all the material the students will need throughout the first semester of the course, which also allows students to move through the material at their own pace.  
"The two books are nearly identical, with the only major difference being the labs. Online only students obviously can't perform the same labs as students in the classroom. I wrote different labs for online students that can be completed through the use of an interactive online lab simulator," said Dettmering. "The two books cover the first semester of AP Chemistry and I am still working on the information that will be in the second semester book."
Dettmering explained that he decided to create the textbooks in the spring when it became apparent that this school year would be different. Dettmering did not keep exact track of how long it took to make the textbook but he estimated around 300 hours worth of work. 
Senior Mia Toomey understands how much extra time teachers are putting into their lessons and that there is a learning curve for everyone. Toomey explained how students need to have an appreciation for teachers and all the extra work they are doing while trying to juggle online and in person learning. 
"We should be patient with our teachers. They might not grade as fast or they might forget to post assignments, but we must be understanding because they have a lot on their plate right now," said Toomey. 
Dettmering explained that planning for class takes much longer than it had in previous years. The major reasons are because the class periods are longer than usual, teachers need to plan for the students who are not in the classroom that day, and they need to plan for the fully online students.
Besides planning, teachers also have to keep health and sanitation guidelines in mind. For example, making sure all desks are cleaned between every class, trying to have less exchanging of paper and making homework and assessments more online. 
Toomey explained that all of her teachers have been very flexible and understanding this school year. Each teacher has been working hard to maximize their time in class and go the extra mile to help students get the best education possible.
"I just want to thank all of the teachers for adapting to new circumstances. Their teaching style has drastically changed to adjust with the ever changing rules and regulations," said Toomey. 
As the school year continues teachers will continue to adapt to new changes and policies. Even though it may look different from previous years there will be some positive takeaways.
"With all the changes that are being thrusted on teachers, we are being forced to step out of our comfort zone and try new things. When we try new things we are undoubtedly going to find several new things that we like and will continue to implement in our classrooms for years to come," said Dettmering.