Athlete of the Month: Matti Plummer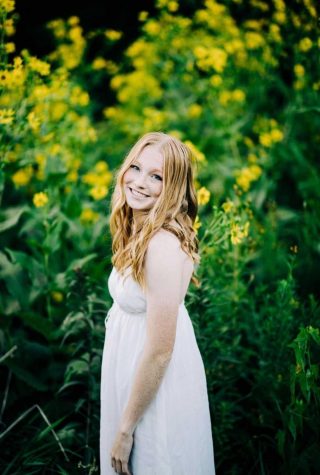 Q: How long have you been running cross country?
A: Since I was a sophomore.
Q: Who inspired you to run?
A: My friends got me into running track just for fun in eighth grade, but they finally got me to go out for cross country my sophomore year, and that's where it all started.
Q: What type of workouts do you do?
A: We do a mix of repeats and tempos during a normal week of practice. This year we have focused a lot more on threshold type runs which I like. 
Q: Do you have any pre-meet rituals or superstitions?
A: I like to eat pasta the night before and use Tiger Balm before I run. The team and I like to write "sick juse" on our knuckles and we also write "go rams" and "mind > body" on our hands.
Q: What has been your favorite memory at a meet?
A: Breaking the school record at Fort Dodge my sophomore year.
Q: What does a regular practice look like for you and your team?
A: We start off talking about what is coming up in the week. If we have a meet coming up we talk about what teams will be there and talk about the course we will be running on. Then we do the warm-up run, stretch, and DROM stretches. Then we get into the workout. We have such a positive group, so no matter what the workout is we all get through it together. After the workout, we stretch and break it down.
Q: What does a regular at-home workout look like for you?
A: I usually run two times a day, once in the morning and then again at practice. In the mornings on my own, I do 4 easy miles just to get my legs back under me.
Q: How do you stay motivated to keep going when things get hard?
A: I just think about our team goals and where we want to be at the end of the season.
Q: What are your biggest personal/team accomplishments in your running career?
A: Personally was finishing runner up my sophomore year and for the team would be becoming State Champions my sophomore year.
Q: What are your personal and team goals for this season?
A: For this season my personal goals are to place in the top ten in the State meet and to run under 18:00. For the team, we would like to finish on the deck which is the top three.
Q: How have your training and competitions been affected by COVID-19?
A: At practices, JV and varsity are separated into different groups to stay safe. In two of our meets so far teams have been set up into two separate pods for races, that way it's fewer people. Then, results from each of the races are merged together. Also at our last meet, there were no spectators allowed.
Q: What do you value most about your team or the XC program?
A: I really value the bond the team has, we all get along really well and it is just such a fun group to be around. I also really value our coaches, without their dedication to the team we wouldn't be where we are today.