Recruiting During COVID-19
Student athletes adjust to a new system
Southeast Polk student athletes are navigating sports recruitment during the COVID-19 pandemic.
One of these students is Junior Xavier Nwankpa. Nwankpa is a member of the 2022 class and is currently ranked as the 126th best player in his class by 247 Sports. He is being recruited primarily as a safety. During the pandemic, Nwankpa has been making waves in the recruitment community as he has picked up offers from LSU, Ohio State, Iowa and Texas to name a few.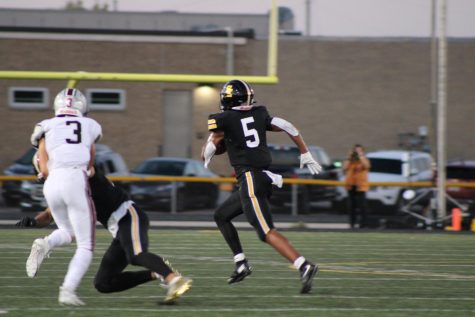 Nwankpa was able to take some visits to schools before the pandemic.
 "I was able to take visits to Michigan, Iowa State, Iowa, and Notre Dame before the dead period started. At Notre Dame I took a whole campus tour, I also enjoyed doing a photo shoot with them and I met the coaching staff. Michigan was a little different, I met the staff and I got to tour the facilities," Nwankpa said.
Nwankpa has also had to navigate keeping in contact with coaches because during the "dead period" implemented by the NCAA, there are no in person visits with coaches.
"They continue to call and text me on a good basis. Other than that, it's just FaceTimes and Zooms mostly, and since I couldn't get seriously recruited as an underclassman. I'm enjoying talking to the coaches a lot," said Nwankpa.
Nwankpa expressed some doubt in committing early because of the inability to take visits to campuses.
"If I'm going to potentially spend 4 or 5 years of my life somewhere, I want to visit and get a feel for the environment. I definitely want to visit some places before I make any big decisions," Nwankpa said.
The recruiting dead period has been a very hot topic amongst recruits everywhere, and  Nwankpa is absolutely in the camp of athletes who want to see some changes in the rules regarding visits.
"I was disappointed that they extended the dead period again. There is a petition going around but I don't know if it will do anything. I really enjoyed meeting the coaches and I obviously liked seeing the campuses," said Nwankpa.
Nwankpa is holding out hope that the NCAA can do something about shortening the dead period.
"I don't know what they really can do. If anything, I guess I would want them to move the date closer to where we are now," Nwankpa said.
Nwankpa has had many schools keep in touch with him throughout his recruiting process, and some in particular have stood out to him.
"I would say Iowa, Mizzou, Texas, Notre Dame, Ohio State, Iowa State, Penn State and Nebraska have all been doing a really good job of keeping in constant contact with me," said Nwankpa.
Nwankpa is clearly one of the most sought after prospects in his class with all of these schools keeping in good contact with him. He is expected to continue to climb the rankings and some expect him to reach 5 star status by the end of his cycle according to a tweet from JC Moreau, one of the premier strength and conditioning coaches in America. 
Coach Donald Starcevich is the defensive coordinator at Southeast Polk and he had plenty of positive things to say about his star safety. He alluded to some of the things on and off the field that make Nwankpa so appealing to recruiters.
Starcevich was already sure of what made Nwankpa so special on the field.
"He has great natural instincts, and is a very good open field tackler," Starcevich said.
This skill has been on full display ever since he got to high school with Nwankpa tallying 72.5 tackles during his first two years of high school according to 247 Sports.
Coach Starcevich continued about what traits he thought would allow Nwankpa to continue to excel at the next level.
"His speed, quickness and instincts will continue to set him apart," Starcevich said.
Fans can see his play speed when watching him play, along with his ability to quickly recognize plays, which results in him almost always being somewhere near the play, alluding to his special instincts.
It is often overlooked by the average football fan that what a player does in practice is almost equally as important to what they do in a game. Nwankpa not only shows out on Friday nights, but also on the practice field, according to Starcevich.
"He leads by example in practice everyday, always gives maximum effort," said Starcevich.
Coach Starcevich was very emphatic about what position Nwankpa would be best suited to play at the next level.
"He will best translate as a cornerback or safety," Starcevich said.
As is listed on most recruiting forums, he currently plays safety, and he is rising in the ranks as one as well. Coach Starcevich also raved about Nwankpa as a leader, on and off the field.
"He is a captain for a reason," said Starcevich.