Girls' swimming and diving team embraces change
The girls' swimming and diving team jumps into the 2020 fall season full of changes and unknowns.
Senior Jocelin Bolin is taking her final season to heart despite dealing with COVID-19 changes. It hasn't stopped her and the team from still having a fun season. Even with changes to meets and practices, Bolin still has fun with her teammates.
"Practices have changed a lot with the girls maintaining social distance and having to wear masks that end up being soaked," she said. "However, the team still bonds together and we all share laughs as though nothing has changed. As for the meets, a difference there is a cool down after events which hasn't really happened before. There's [fewer] or no spectators in the stands, but the team still cheers for one another."
Her goal for her final season is to be a good leader for her team and to make Regionals all while getting her 100 fly time down to 1:14. She plans to achieve it by practicing a lot, primarily focusing on technique.
She misses the team dinners the girls had in previous years, but they're being made up by continuing their "secret sister" tradition and doing bonding on Fridays to keep spirits high. Even though much has changed, Bolin is staying strong and positive. She leaves behind a message for her teammates to remember about this year.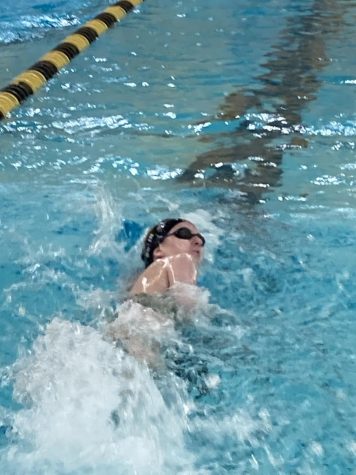 "All of this happening is real, but don't let it stop your life completely and keep swimming," said Bolin.
Of course, a team isn't possible without a coach who knows what they're doing while having fun with the team and keeping them safe. Algebra teacher Adam Schulte is no exception with new assistant coach Medelyn Keeler, a government teacher.
Schulte has been the girls' swim and dive coach since 2011 and coach of the boys' team until after last year's season. Of course, this year is nothing like previously regarding the atmosphere of the pool room.
"At the meets, it's quieter with a lack of cheering from the crowd. There's also a loss of compradore with the teams the girls swim against like the hand-shaking after a meet and the sportsmanship," said Schulte.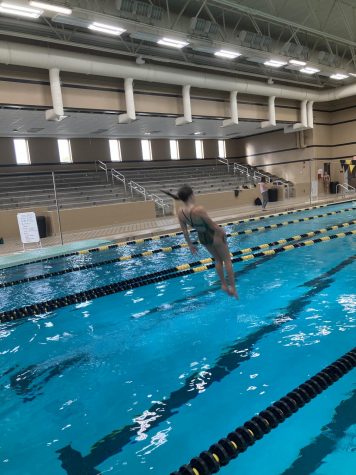 Schulte still has his goals for the team.
"I want the girls to grow as a team and to come to practices forgetting all the extras that are keeping them from giving it their 100%. I'm also hoping for a 200 Medley team to qualify for state all while seeing the girls working hard," said Schulte.
Keeler also has some words of wisdom.
"The world is crazy, but that's why coming to this team with a positive attitude is key," said Kieler.
The girls had quite a lot of close matchups with opponents like Indianola, Fort Dodge, Valley, Hoover, and their recent matchup against Dowling Catholic.