High School Prepares for Transition to Hybrid 1
Students will return to classrooms full time beginning November 2
The Southeast Polk Board of Education voted to transition from the Hybrid 2 model to Hybrid 1 starting November 2. This means all students must choose between 100% remote learning or being full time in the classroom. 
The district voted 5-2 in favor of going full time back to school on Thursday, October 15. District board member Adam Krell put a lot of time and effort into his decision. 
"I can only speak for myself, however, I have invested well over 100 hours into research. This includes not only reading expert recommendations from the CDC, WHO, IDPH and others, but, also talking with other school districts about what is and is not working in their districts. I have also spent a good bit of time in our classrooms talking with teachers and students at the high school," said Krell. 
Each board member voted for what he or she believed to be the best option for SEP students. In reality, no choice would make everyone happy. 
"If we move forward and continue to have low numbers of infections with no serious cases then, yes, this will be a success. However, if we see a significant rise in cases, hospitalizations or even a death, this will be a mistake," said Krell. 
Principal Steve Pettit is putting in place extra measures to keep students safe on top of wearing a mask each day as the high school plans for the transition. 
"We will look to adjust student schedules to balance our section rosters to minimize the number of students in a classroom. We will space student desks as far apart as possible, but we won't be able to maintain 6 foot distances. We will also hang acrylic shields from the ceiling in rooms which have multi-seat student desk options to add an extra layer of mitigation between students who are sitting close together," said Pettit. 
In Hybrid 1, everyone needs to be responsible. As for lunch and other activities that require students to take off their masks, everyone needs to be aware of their surroundings. Pettit wants students to know that they may need to sacrifice their socializing in order to stay safe.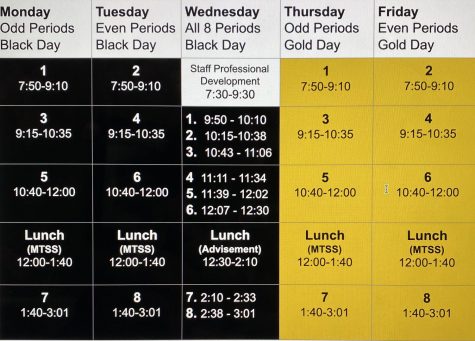 Block scheduling will continue throughout the semester.
"Block scheduling will continue with some slight modifications. The specific adjustments will be communicated to all students/families when these are finalized," said Pettit.
Odd periods will meet on Mondays and Thursdays, even periods will meet on Tuesdays and Fridays; Wednesdays will continue to have all eight classes. 
 "The reasons why we are staying on the block schedule is for consistency with the first part of the semester, to keep the number of passing periods to a minimum, to keep the number of daily classroom groupings to a minimum, and to align with best practices for online learners as 8 periods in not recommended," said Pettit. 
Some students are torn between choosing remote learning and full time. Senior Sam Stutzman is okay with returning full-time so he can get more face to face instruction. 
"I am in three college classes and it will benefit those that are also in them," said Stutzman. 
But another student, senior Lauren Shediwy is not looking forward to the changes. 
"For the safety within our school, I think it would be best to continue with the Hybrid 2 plan. I also think that the hybrid 2 plan also creates a college like schedule that better prepares our students for the future," said Shediwy. 
Despite the mixed opinions from students, Pettit and his colleagues are doing their best to give the students top learning opportunities this year with as few changes as possible. 
"While allowing all students to return to school on a daily basis is a change, we would like to keep many things consistent," said Pettit.