Holiday Shopping Guide
Best places to score deals on decor this holiday season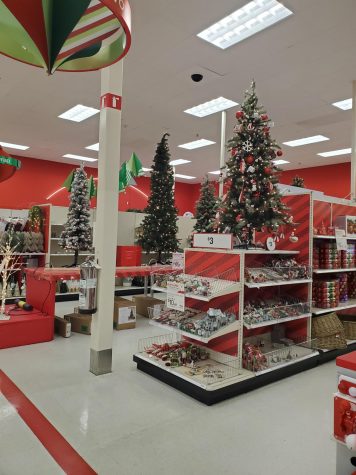 People love to spend money and go gift shopping around the time of the Holidays. 
Senior Regan Henderson is one of those students who loves to go holiday shopping for her friends and family.
"I love to decorate around the holidays! I usually wait until the day after Thanksgiving to decorate but this year I decided that we could all use an extra month of cheer so all of my decorations went up on November 1," said Henderson.
Many people start to decorate around the holidays. Some teachers even decorate their rooms a bit for the students. Math teacher Kimberly Boxleiter is one of those teachers who decorates around the holidays. She even lets students bring in their own decorations sometimes.
"[They feel] represented when I allow them to bring in their own decorations," said Boxleiter.
Some of the most popular places to get holiday decorations are Hobby Lobby, Micheals, and Big Lots. These places tend to have the best deals for decorations and all things holiday spirit.
"I personally think the best place to go shopping for decorations is Hobby Lobby. They have such cute finds and you can even DIY some of your own cute decorations to add character," said Henderson. 
Black Friday is also another time when holiday shopping is big among people. When almost everything goes on sale in the stores and crowds of people go to buy them. Some of the top places to go black Friday shopping according to wallethub.com are Kohl's, GameStop, and Dicks Sporting Goods. 
"I went on a streak of Black Friday shopping around 2012-2016 when I was tagging along with family, but have rather slept in and relaxed on the more recent Black Fridays" said Boxleiter.
Whether shopping in person, online, or on Black Friday, holiday shopping has been something to bring people together during the holidays for many years.
"The holidays really are a magical time of the year, no matter what you believe. I honestly do think that giving is better than receiving and the family time spent is priceless!" said Henderson.